Recently, Dr. Terry Mortenson spoke at a conference in Egypt. Terry had a tremendous response, and he will be writing a report on this incredible event in the near future.
I thought you would be interested to see the videos of Terry being translated into Arabic as he spoke. The following link goes to the church website that posted the entire creation conference—so far, over 5,000 people have watched these videos:
http://www.kdec.net/spec-studies/scienceandfaith/s_fconfrence/index.1.html
You may know someone you could forward this link to as a witness!
Athletes in Action Group Visits Creation Museum
Among several outreaches, Athletes in Action has a unique sports ministry in Bulgaria. The group that visited the
Creation Museum
yesterday was made up of 19 Bulgarians and 8 Americans; they are a part of a basketball outreach that AiA has. They'll be playing basketball in a U.S. tournament in the next week or so.
Because many on the team are non-Christians, you might call this ministry a "reverse missionary endeavor." Instead of sending U.S. missionaries to bring the Word to Bulgaria, the AiA staff bring the Bulgarians to the U.S. so they can minister to them. Most of the basketball players had never heard the Bible's account of creation. Biblical authority was unknown to them.
The tour's theme is "who is Jesus?" One of the leaders said that the players are starting to understand the message.
The international headquarters of Athletes in Action is based out of Lebanon, Ohio (about 60 miles from our museum). Below is a photograph of the group that visited: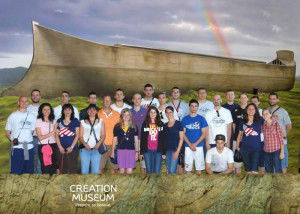 Thanks for stopping by and thanks for praying,
Ken