Tonight our time in the USA, a memorial service will be held in Australia for the father of AiG's full time geologist, Dr. Andrew Snelling. Andrew and his wife Kym have been on an emotional "roller coaster" over the past few weeks as they have been caring for Andrew's dad in the last weeks of his life on this earth.
I wanted to honor Andrew's dad in this blog post today by reminding us of the importance of leaving a spiritual legacy. One of my favorite verses of Scripture relating to this topic is this one: "A good man leaves an inheritance to his children's children, But the wealth of the sinner is stored up for the righteous" (Proverbs 13:22).
I have reminded people over the years that the most important inheritance to leave is not a material one (such material things do not last) but a spiritual one—an inheritance that lasts for eternity.  I praise the Lord for my godly parents who taught me to stand boldly and uncompromisingly on the authority of the Word of God. I am eternally grateful to parents who made sure I understood the saving gospel so I, like them (and my brothers and sisters), received the free gift of salvation. The Creation Museum and AiG ministry exist because of the spiritual legacy.
I first met Andrew around 34 years ago in Sydney, Australia. I had borrowed a truck and had loaded up with creation apologetics books from Master Books in America to follow an American creation scientist around Sydney and Melbourne as he spoke on the issues of creation vs. evolution and the age of the universe. All those books sold (it was all a part of the embryonic beginnings of what is now the AiG ministry). I met Andrew at the home of a doctor who was an ardent creationist. Andrew was still completing his PhD from Sydney University at the time. We became immediate friends, and of course, the friendship has grown since then.
Andrew and his wife Kym moved to the Northern Territory where Andrew worked with a company searching out uranium deposits. This gave Andrew a wealth of experience to further his research in radiometric dating. Andrew and Kym were generous supporters of our creation apologetics ministry that began in our home in Brisbane. He wrote various articles for publication in both the secular and Christian worlds. Eventually, Andrew moved to a full time position with the flourishing creation ministry in Brisbane. He continued his creation geology research, writing articles (both layman and technical), editing a creationist Technical publication, conducting field research, and also speaking on creation vs. evolution, age of earth, and Genesis topics across Australia and other parts of the world.
A number of years after Mally and I moved to the USA, Andrew began work full time with the Institute for Creation Research (ICR). While with ICR, Andrew wrote the most comprehensive work on creationist geology available today—a two volume set called Earth's Catastrophic Past.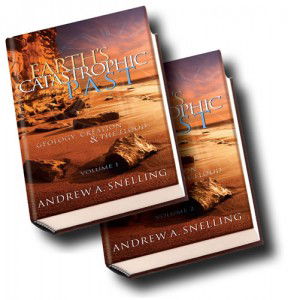 A couple of years ago, after ICR moved from San Diego to Texas, Andrew was led to again team up with our AiG ministry in the USA. He is now our director of research for AiG and the Creation Museum and will obviously be involved in the Ark Encounter project.
Andrew is considered to be one of the leading creation geologists in the world today. His cutting edge research and articles, together with his numerous presentations, over the years have impacted thousands upon thousands of people. The Lord has used Andrew as a leader in the modern biblical creation movement.
The above is just a short summary, but it is a testimony to a father and mother who brought up their son to honor God's Word—as my father and mother did for me.
Andrew's father turned 90 just a couple of days before he left this earth for his heavenly home. Andrew and Kym were blessed to be able to celebrate his ninetieth birthday with friends and family as they gathered around his hospital bed. While in hospital for his last days on earth, Andrew made sure a CD player was playing his father's hymns beside his bed so he could hear them. While the hymn "When the Roll Is Called Up Yonder" was playing, Andrew's dad went to be in the presence of his Savior.
I don't know all the details, but Andrew shared that doctors and nurses were amazed that Andrew's dad wanted to go. He was not afraid of dying. He recognized his time on earth was finished and wanted to be with his Lord and Savior. He was a great witness to many even in his last days.
Andrew's dad has left an amazing legacy in the lives of Andrew and Kym as they have been so active over the years in ensuring so many people have heard the message of biblical authority and the gospel.
Here is a question for all of us: what kind of inheritance (legacy) are we leaving on this earth?
"Precious in the sight of the Lord Is the death of His saints" (Psalms 116:15).
Thanks for stopping by and thanks for praying,
Ken