As God has been growing AiG's "media" ministries—especially our radio, TV, and web outreaches—we've become increasingly involved in the National Religious Broadcasters (NRB) group. NRB is a trade association with over 1,000 ministry members, including most of the top conservative and evangelical non-profits.
Mark Looy, who is our Chief Communications Officer and helps filter my radio and television interview requests, and I both attended the recent national NRB event in Nashville together with a number of other AiG staff.
I've already reported that I was able to do numerous interviews and meetings there the past several days. Behind the scenes are other key AiG employees who design and transport our booth, spend days on the convention hall floor meeting with station managers, transmit our radio and television programs, and create translations for other language groups. The radio and TV team is led by Dale Mason, our VP of media and product distribution. Here is a photo of Dale, Mark Looy, and me taken recently in our recording studio:
While Dale has been active in recent years as a member of the NRB Internet Committee and the NRB President's Council, this year he was asked to also run for one of the NRB's board of directors positions. We got word on Saturday that Dale was elected to the board position.
He will be helping to guide NRB and representing AiG at their leadership meetings along with other board members-elect, such as Kay Arthur (Precept Ministries), Jim Daly (Focus on the Family), Tim Wildmon (American Family Association), John Ankerberg, Michael Youssef, Joni Eareckson Tada, and numerous others. Dale shared the following with me via email:
It is thrilling to see the way that the Lord is continually raising awareness of Answers in Genesis, the Creation Museum, and now the upcoming Ark Encounter among these leading Christian ministries. He's doing great things and it's wonderful to be part of it. We've got a great team and the Lord is blessing the efforts of so many who work hard behind the scenes to get the truth of His Word out worldwide!
While we were at the NRB convention this year, because AiG won three awards (this year two organizations won three awards—this is a first, as no organization has ever won three NRB awards at the one convention), Frank Wright, the President of the National Religious Broadcasters, produced three video endorsements of AiG with me. Here is a photo as we were before the video cameras: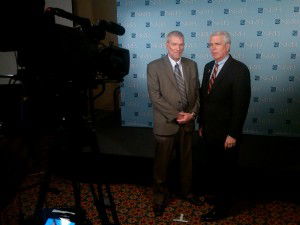 I praise the Lord for all the talented staff at AiG and the way He uses them in this ministry, which enables AiG to be able to be involved in a Christian leadership position in this nation.
Thanks for stopping by and thanks for praying,
Ken