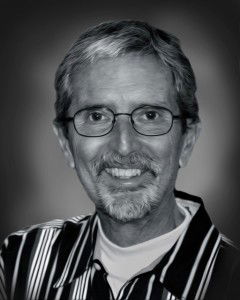 What does a particular woodcarving in our
Creation Museum
have to do with Valentine's Day (being celebrated in the U.S. today)? I urge you to read today's lead article on our AiG website to find out, and discover how a heart-wrenching time in the lives of a devoted couple can encourage us on Valentine's Day. The article gives the account of two "love birds," Paul and Cindy Malott. Paul passed away several days ago, but his life and death became a wonderful testimony as Paul spent his final weeks sharing Christ to hospital staff and visitors. He had a number of opportunities to share the gospel.
Paul's artistic talent is on display inside the museum. For more on that, and to read a tribute to Paul's life, go to today's main web article.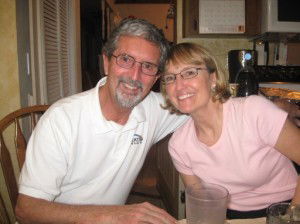 Here is Paul's obituary that appeared last week in the Kentucky Enquirer. It was mostly written by his granddaughter, I understand:
"I have fought the good fight, I have finished the race, I have kept the faith" 2 Timothy 4:7. Paul Malott did not waste his cancer but kept the faith throughout and finished his race well on February 5, 2011 at the age of 72. He is now united for eternity with his Savior. A life marked by the transforming power of grace, Paul was always eager to share the gospel of Jesus Christ.

His wife and sweetheart, Cindy Malott, shared life with him as they resided in Florida, Kentucky, and Ohio throughout their 28 years of marriage. He was a loving brother to John, father to Whit, Craig, Marci, and Elizabeth; a beloved "Papa" to thirteen grandchildren and two great grandchildren; and a kind friend to many treasured neighbors and anyone he met. As a gifted artist, he enjoyed wood-carving. And he had a special ability to fix just about anything.

His most recent job at Northern Kentucky Senior Services was indeed his favorite. His servant's heart and love for others was evident as he joyfully transported elderly, sick, and handicapped friends to medical appointments. He was an enthusiastic, loving, always-learning, and involved member of the Bible Chapel of Delhi Hills. Paul will forever be remembered by his fervent love for the Lord, his desire to learn from God's Word, his love for others, and the precious grace of a loving God exhibited so beautifully even in his final hours.

Instead of flowers and as a final encouragement to his wife, Cindy, the love of his life, he requested that any donations made in his honor be sent to Answers in Genesis in Petersburg, Kentucky to support the Sunday School Curriculum Project. His legacy of faith and trust in the Lord goes on.
I was not able to attend the memorial service on Saturday because of a speaking engagement in Tennessee, but I hear that it was a wonderful celebration of Paul's life. I heard that Christ was lifted up more than Paul at the service, which is what Paul wanted. AiG staff were involved in the service, including Elizabeth and Becky who sang at the service—they were accompanied by an
internationally renowned violinist
and his pianist wife. Pastor Kevin Landis, a great friend of the AiG ministry, led the memorial service at his church, Bible Chapel of Delhi Hills (Cincinnati). Here is a photo of the church sign from Saturday:
Also, here is the cover of the memorial program that was handed out at Saturday's service for Paul: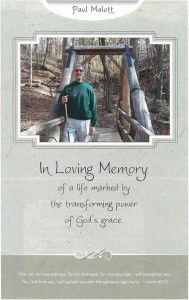 By the way, read this article for the answer to why God allows suffering and death in this world.
Please pray for Cindy and all the family. Thanks for stopping by and thanks for praying,
Ken