When Answers in Genesis started as a ministry 16 years ago, we soon launched a nationwide radio program (Answers) and became members of the National Religious Broadcasters (NRB). NRB's chairman, Bill Skelton, and his wife Barbara, of Memphis, Tennessee, toured the museum on Friday. See Bill's page on the NRB website.
Bill described the museum as "beyond belief" (he quickly added that he meant that in the best possible sense). We shared with him over lunch that the president of the NRB, Dr. Frank Wright, visited us back in December (see blog post).
I wanted to let you know that starting September 1, NRB is hosting a national prayer campaign—40 days of prayer for revival in America. For more information on this prayer effort, see NRB's website, and I also encourage you to read our Answers Update newsletter (arriving in mail boxes around the country right now).
In the photo, Bill and Barbara are flanked by Mark Looy and me.  Mark and I produce the daily Answers radio program.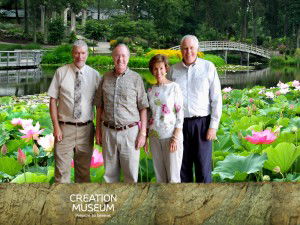 With the addition of a TV program, large web presence, and a growing magazine (Answers magazine), AiG has even more reason to be involved with the NRB. Our TV program The Answers Creation Hour is shown Tuesday evenings on the NRB Channel, which is carried by DirectTV Channel 378 and SkyAngel Channel 126 (see  http://www.nrbnetwork.tv/Pages/default.aspx). This Tuesday, our program is "Answers to the Most-Asked Apologetics Questions."
By the way, I will be speaking in Bill's hometown this Wednesday evening at a church in the Memphis-area that was pastored for so many years by the late Dr. Adrian Rogers (see the event page for more information). Dr. Rogers is called one of the finest preachers America has ever seen. Bill was the right-hand man for Dr. Rogers at his Love Worth Finding Ministries—Bill still serves as its CEO.
Devotion
Your eyes shall see the king in his beauty

(Isaiah 33:17)  Your eyes shall see the king in his beauty: they shall behold the land that is very far off.

Our morning devotions are best when we quiet our souls, turn our eyes Heavenward, and let the Spirit of God show us the beauty of the Lord Jesus Christ.
Thanks for stopping by and thanks for
praying
,
Ken