When we started Answers in Genesis over 15 years ago, one of the first things we did to get the creation/gospel message to people across America (besides going on the road and speaking in as many churches as possible) was to launch our Answers daily radio program. We also immediately joined the important Christian trade association, the National Religious Broadcasters (NRB), which is based near Washington, D.C. (More about NRB further on.)
As I think back to when Mark Looy and I sat in front of the microphones in that first little studio in 1994, we really had no idea of what God would do to grow the radio outreach. I am truly amazed at the number of stations that we're on today, and I deeply appreciate that so many of the stations run the program two or even three times per day. We constantly hear from people who have been listening for years, and with the program on more than 800 stations in the U.S., the message of biblical authority and the truths of creation is equipping people that I'm sure I won't get to meet until heaven!
This past week we were privileged to have Dr. Frank Wright, the president of the National Religious Broadcasters, speak to our staff. (I've included a couple photos.)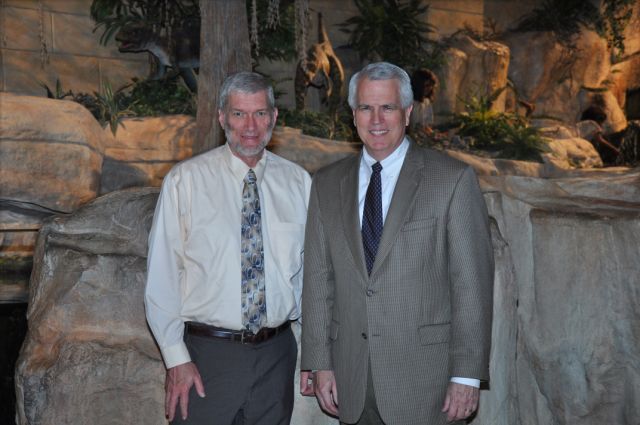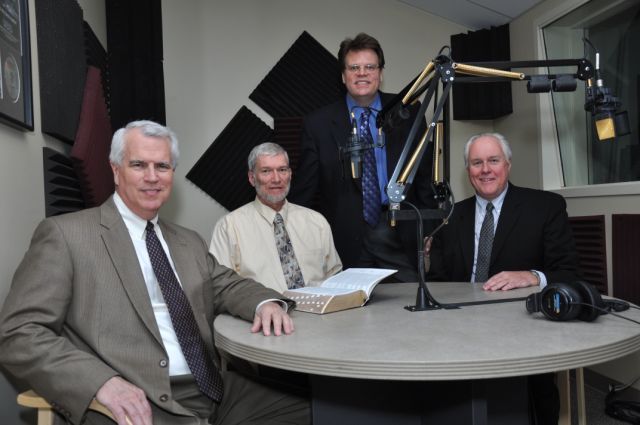 In the photo taken in our recording studio, you can see, left to right: Dr. Wright, me, Dale Mason (VP of Media and Marketing), and Mark.
He flew in specially to address our staff. We videotaped his excellent message—which was both an update on important legislation that will impede the spread of the gospel through media, and it was a perspective on the account of Joseph and the Israelites in Egypt that most had never heard before. Dr. Wright's very candid talk included some alarming observations from his meetings on Capitol Hill and with various senators and congressmen, and I really feel that it should be seen by every Christian before it's too late. We deeply appreciate Dr. Wright for coming and for giving us permission to put his talk up on our website so that you can see it and share it with your friends and church family, too.
The times in which we live are filled with challenges, but as Dr. Wrights points out, this era is also filled with tremendous opportunities for each of us to shine the light of the truth of Scripture into the darkness of today's culture.
View this video, and also consider signing up for the NRB's free weekly email—it is available for anyone. See a sample here. Subscribe here.
By the way. AiG now uses not only radio, but also TV, the web, DVDs, books, etc. to get out the Word. We also have a weekly TV program (Answers Creation Hour, which is fairly new) and our huge family of websites.
After visiting AiG and the Creation Museum, Dr. Wright wrote:
Regarding the Creation Museum:
After spending several hours at the Creation Museum, I cannot think of enough superlatives to describe my experience. Everything is done with exceptional quality and creativity. Every presentation is marked by solid, peer-reviewed science, as well as biblical fidelity. The whole experience will stimulate your imagination, answer seemingly difficult questions you may have, and ultimately strengthen your faith. You should make it a point to get there soon—and bring the whole family!
Regarding Answers in Genesis:
Answers in Genesis is an extraordinarily effective Gospel outreach. Everything the ministry does is marked by excellence and is based upon the authority of God's word. Yet, the goal of all the conferences and educational materials they produce is not to make a generation of "smarter sinners" but to win millions to personal faith in Jesus Christ.
Please pray for NRB as they work extraordinarily hard to maintain the Christian freedoms we still have in the media.
Devotion: I come quickly and my reward is with me
(Revelation 22:12–15) And, behold, I come quickly; and my reward is with me, to give every man according as his work shall be. I am Alpha and Omega, the beginning and the end, the first and the last. Blessed are they that do his commandments, that they may have right to the tree of life, and may enter in through the gates into the city. For without are dogs, and sorcerers, and whoremongers, and murderers, and idolaters, and whosoever loves and makes a lie.
The Bible ends with clear instructions that heaven and hell are realities, time is short, obeying the Lord Jesus Christ is our singular focus, and the gospel is imperative.
Thanks for stopping by and thanks for praying,
Ken