Last evening I spoke to around 1200 people who attended the National Sunday School Convention at First Baptist Church of Woodstock (in the Atlanta area). After the presentation, many people came up and told me how they either are or would be using Answers in Genesis apologetics materials in their Sunday schools. Over and over again, attendees told me they recognized there is a major problem in churches and that we are losing kids to the world. Also, a number of pastors told me they would be bringing their church (including their young people) to our Creation Museum (about a 7–8 hour drive from Atlanta) as soon as they could arrange it.
Here are two photographs taken in the auditorium last evening.
"I Am Not Ashamed" Campaign a Real Hit!
While in Georgia, we set up a special booth at the conference to promote the "I am not ashamed" campaign (
www.iamnotashamed.org
). The
T-shirts
were very popular, with hundreds being purchased. Many people are now starting to wear the
IANA lapel pins
, put
bumper stickers
on their cars, wear the T-shirts, and be bold about standing for God's Word in the culture. Here is a photo taken in Georgia last evening: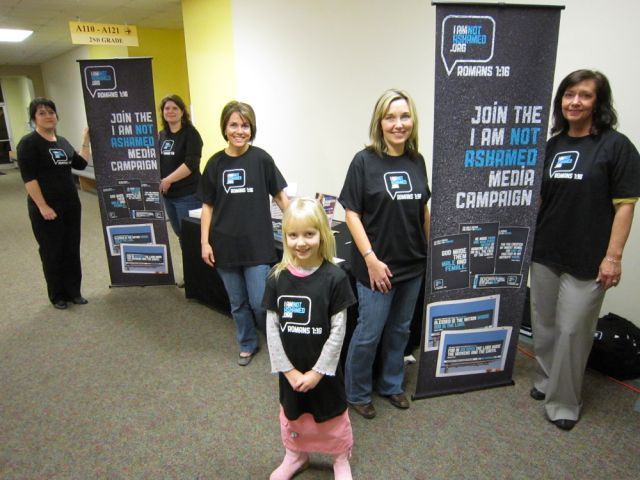 Find out more about the "I am not ashamed" campaign by going to www.iamnotashamed.org—while there, you can become a participant in the world's first online video Bible.
Reaching the Next Generation
Yesterday morning, I had the exciting opportunity of speaking to a group of homeschoolers (and many of their parents). It was thrilling for me that during the question time when I was asked a question that went something like this:
Can you tell us what you believe it will be like for our generation in this culture—and how we will better be able to stand up for the Christian faith?
I praise the Lord for those young people in the this generation that God is raising up to stand boldly for Him in the nation. Here is a photograph of some of the students I spoke to: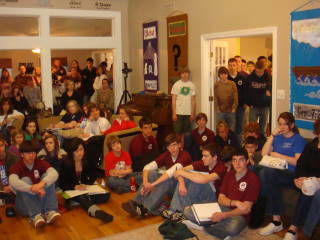 California—Here We Come, Again!
This weekend and through Thursday next week,
Dr. Jason Lisle
and I will be speaking in California. This Sunday and Monday, we will be speaking at Calvary Chapel in Chino Hills (east of Los Angeles)—see the
Answers Outreach calendar
for details. Then at Harvest Christian Fellowship at Riverside on Wednesday morning, I will be
presenting two school assemblies
—outreaches to elementary and middle school, and then junior/senior high (and anyone else who wants to attend) and then speaking Wednesday evening at Harvest.
By the way, you can listen to the radio spot that is being used to advertise the Harvest Christian Fellowship event:
Devotion
(1 Kings 8:38) What prayer and supplication soever be made by any man, or by all thy people Israel, which shall know every man the plague of his own heart, and spread forth his hands toward this house:

We are diseased with a heart plague called indwelling sin, that infection stays with us till we die; the more we know it, the more we cling to the Lord Jesus Christ.
Thanks for stopping by and thanks for
praying
, Ken