Representatives from the Bible Bee–a national competition involving Bible memorization, Bible study, etc. for young people—visited us this week and spoke to the staff at one of our chapel sessions.
In the photo with me are Mark McMahan, Bible Bee CEO; Tom Widdoes, VP of Development for the Bee; and our ministry CCO, Mark Looy.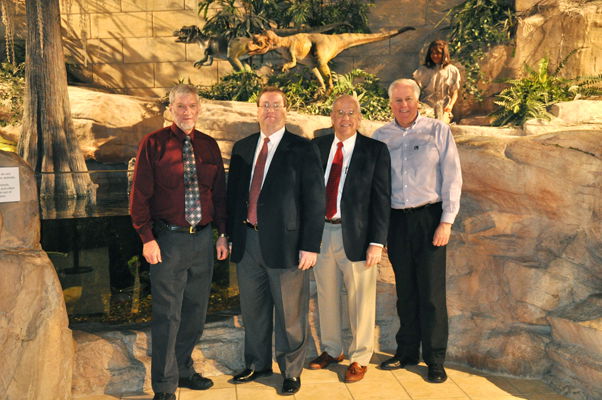 Local Bible Bees are currently looking for hosts for this season; then on May 1 contestant registration begins. The local Bees are held around the country on August 28. The finals will be held in Chicago in November. Find out more at http://www.biblebee.org/
Overflow Crowd in Georgia
Last night, around 3000 people overflowed the chapel/auditorium at First Baptist Church of Woodstock.
I had many people give me testimony as to how Answers in Genesis has been used by God to greatly affect their family—two people told me how they were saved as a result of our teaching—one through the Answers . . . with Ken Ham radio program and another because of the books. People are certainly hungry for the messages that Lord has laid on our hearts. After the presentation, people jammed the lobby to get resources and many wanted to obtain the new "I am not ashamed" T-shirts.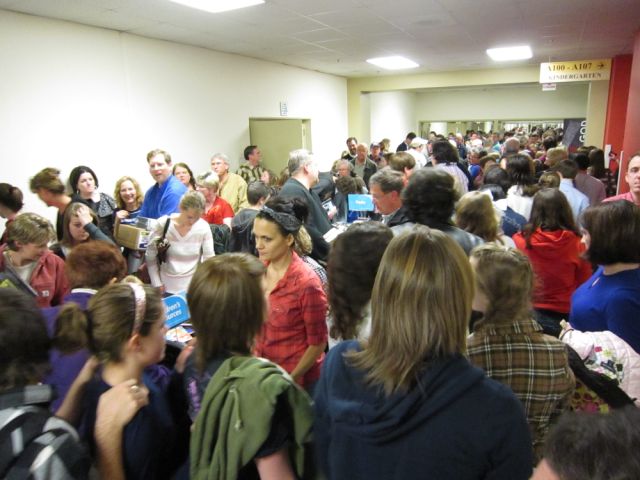 Devotion
(2 Samuel 23:2–3) The Spirit of the LORD spoke by me, and his word was in my tongue. The God of Israel said, the Rock of Israel spoke to me, He that rules over men must be just, ruling in the fear of God.

Our progression goes from hearing the Spirit of the Lord Jesus Christ speak in us and then to us and then by us.
Thanks for stopping by and thanks for
praying
, Ken