It is interesting to read the responses that our new "I am not ashamed" campaign (www.iamnotashamed.org) is receiving. We are getting overwhelmingly positive responses from Christians.
It is interesting to note a number of atheist blogs, though, that are mocking the campaign and are taking Scripture out of context to level their usual emotional anger at God's Word. Now, if we took their comments out of context as they do to the Scriptures, they would be up in arms. But it is obvious that these same atheists that mock the Creation Museum and Answers in Genesis now mock the "I am not ashamed campaign."
It is not just our stand on creation and a young earth (as opposed to evolution and millions of years) that they ultimately object to. They are angry at God! They hate God's Word—and that is the real issue.
But here is a response that is typical of the major responses we receive from those who love God's Word and who are blessed by our new campaign:
I think this is the most powerful witness I have seen in ages. It is awe inspiring. It will have an impact that exceeds expectations, or as we now say in our business, it is "beyond belief." I can hardly wait to see how God uses this.
Remarkable Photography
We said good-bye to a long-time volunteer this week. Paulie DeCesare is moving to Arizona, and before heading off, he stopped by to say his farewells. Paulie attended an
Institute for Creation Research
seminar where I was speaking in early 1994, and—though not a Christian—he became a creationist right then. A few days later, while listening to a Christian radio station as he was driving through Iowa, he received the Lord while hearing a radio message about the book of Romans! He's a great example of how God can use "creation evangelism" to open eyes and bring salvation.
Paulie was so grateful to the Answers in Genesis ministry that over the years, including when he lived in Oregon, he put in several hundred volunteer hours (maybe thousands!) of computer assistance for many parts of the ministry.
We knew that Paulie was going to be in the office, and so we were ready with some gifts—including a new book of photographs taken of the Creation Museum grounds called The Gardens at the Creation Museum—as an avid photographer, Paulie appreciated getting the prototype of the book. (In a few days, we get our shipment of this great new photo book featuring the wonderful photos of Marty and Deb Minnard of AiG.) In the photo, Mark Looy hands him a box as I explain what's inside—the new photo book: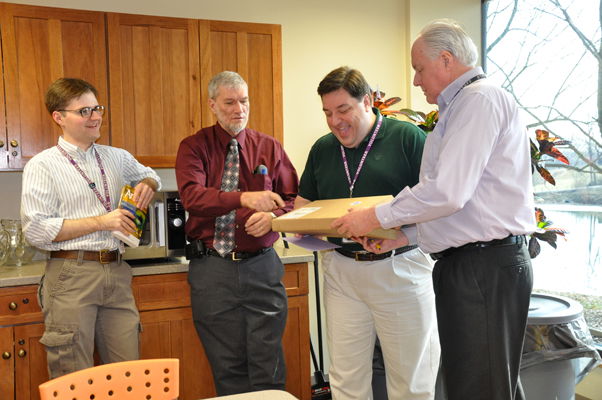 Paulie (along with his wife Rebecca as his photo editor) has contributed many remarkable photos for our use at Answers in Genesis and the museum. Mark asked Laura Strobl of our staff—who oversees the collection of Paulie's photos—to pick her favorite, and she had a surprising choice out of the many photos. Laura explained:
Paulie has continued to bless Answers in Genesis and the Creation Museum by voluntarily taking countless photos of the museum. He told me that he was blessed with wonderful camera equipment, and wanted to use it to bless our ministry. He has done just that.
This photo is my favorite, not only because it is God's inspired Word, but it is also Ken Ham's dad's well-marked Bible, open to Genesis. This Bible represents a long-standing family tradition of placing God first. The Bible is the authority that Answers in Genesis and the Creation Museum were founded on.
Also, here are two of my favorite photos that Paulie took of the museum grounds:
Paulie, don't be a stranger, my friend. Blessings to you, Rebecca, and David (also a volunteer here at Answers in Genesis—he's in the IT dept., and in the photo you can see him to the far left) as you relocate to Arizona. Paulie promises to send us some photos of that very scenic state—one of my favorites places in all of America.
Devotion
(1 Kings 10:1) And when the queen of Sheba heard of the fame of Solomon concerning the name of the LORD, she came to prove him with hard questions.

It is good to have a reputation of one who always speaks about the name of the Lord Jesus Christ.
Thanks for stopping by and thanks for
praying
, Ken