Tonight (Tuesday, USA time) I will be giving a video webcast from the Answers in Genesis headquarters and the Creation Museum live on www.answerslive.org at 8:00 p.m. EST (USA).
I have had quite a number from my home country of Australia (15 hours ahead of the USA) say they will be watching (at East Coast Australian time, 11:00 a.m. Wednesday). One of our Aussie friends is putting the presentation on a big screen and inviting friends and colleagues over to watch it.
This address has been constructed to challenge both church and nation (America), and in many ways, is a response to President Obama's "State of the Union" address given a few weeks ago—though it is applicable for any country (as I will be dealing with biblical principles and the spiritual state of a nation that once had a biblical foundation, as was the case with many Western nations).
You can find out more on how to view the "State of the Nation" address via the web, certain TV channels, and many radio stations at this link.
I have spent considerable time constructing this unique presentation that I believe is one of the most important messages I have ever been burdened to give. I also want to thank AiG staff members:
Artist Dan Lietha for all the new startling illustrations to help me explain complicated issues simply
Graphic designer Maria Murphy for putting the 200 new Keynote slides together for me
AiG librarian Walt Stumper for the hours of research in hunting down quotes and documentation for me
Plus the numerous AiG staff involved in the web, AV, IT, and other departments that collectively make a powerfully talented and dedicated team to enable such a venture as this to be carried out
Also thanks to all the other organizations (TV, radio, etc.) who are helping us to broadcast this message more widely.
By the way, I am thankful the winter storm (which dumped up to 10 inches of snow in places around our area) came in yesterday and not today! That would have made it difficult for key staff who are working on the webcast to make it here safely.
As a little hint for the direction I will be taking in this presentation—here is the graphic of the title slide: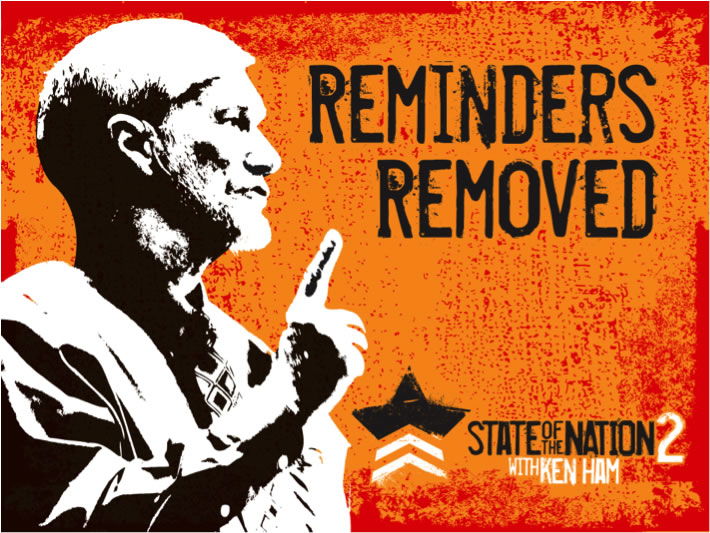 And just to intrigue you, here is another graphic I will be using with the caption, "What do these stones mean?"
Lastly, here is a link to the radio interview I did on Moody Radio Network's national program PrimeTime America yesterday—which mentioned the "State of the Nation" address.
Devotion
The Lord your God was your king

(1 Samuel 12:12) And when you saw that Nahash the king of the children of Ammon came against you, you said unto me, Nay; but a king shall reign over us: when the LORD your God was your king.

It breaks the heart of the Lord Jesus Christ when we get in trouble and immediately look for another person instead of Him to help and guide us to safety.
Thanks for stopping by and thanks for
praying
—and please pray much for the
"State of the Nation" address
, that God will use it in a special way.