Dr. David Menton and I spoke in Motherwell (near Glasgow), Scotland, on Friday and Saturday nights (in two different venues). It was very difficult to get good photographs in these old buildings--but I enclose a couple for you showing just part of the crowd in each place. We praise the Lord that both nights, the auditorium was filled to capacity.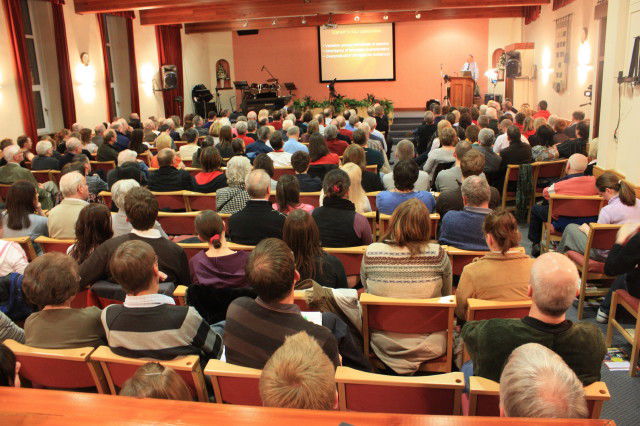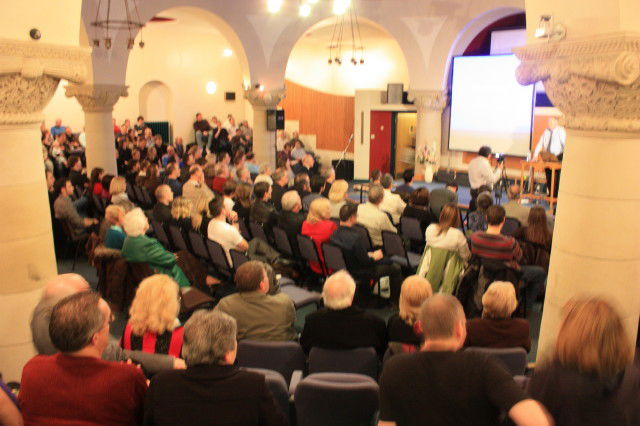 There is no doubt, in this all but spiritually dead country, that there are people hungry for the messages we give--and for the resources. On the first night, we almost sold out of all the Answers Book 1 and 2, and thus had only a handful of copies left for the second night! Whether it be church leaders or laymen in the church--most just don't seem to have a grasp of how important this topic is and most certainly have not had the apologetics teaching necessary to defend the Christian faith in today's world.
It was thrilling to meet some people who have been positively impacted by our ministry in previous years. One man told me while he was in a drug rehabilitation program, he was shown videos of me teaching on Genesis, creation/evolution etc. He said he now uses AiG videos to witness to others because of the incredible impact they had on his life.
On Monday and Tuesday nights we will be in Southampton (not that far from London), and then on Thursday and Friday nights in Westminster Chapel in London, and then Saturday night for a special meeting at Calvary Chapel in London. I will also be speaking at one Christian school and in the Religious Education class at a secular school.
While in Glasgow, some friends took us to see Loch Lommond (some of you may recall the song I'll take the high road and you take the low road—which was referring to this Loch). I have also enclosed photographs of Mally and me and Dr. Menton in front of Loch Lommond.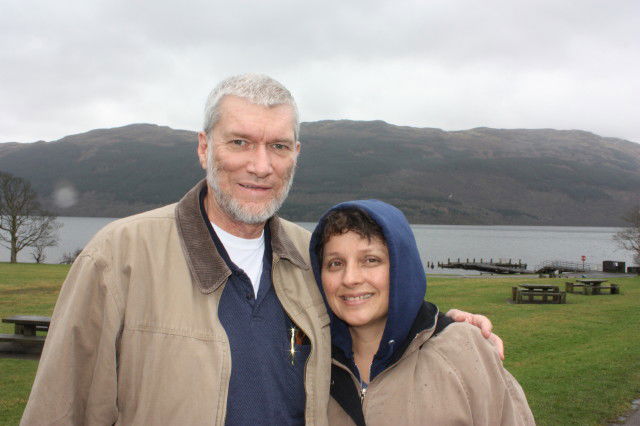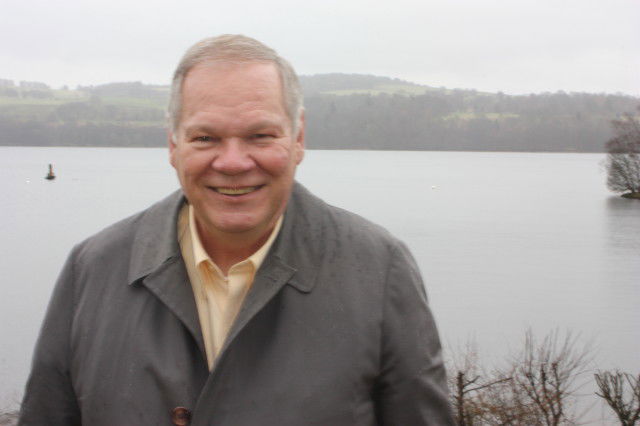 Please continue to pray for the UK meetings. These countries so desperately need the creation/gospel apologetics teaching.
AiG on Spanish-language TV
We can give you many examples of how AiG is reaching out worldwide. For example, I'm in Scotland today for speaking ministry, and our international director, Dr. David Crandall, is in Japan right now.
A few days ago, Dr. Crandall sent me a copy of a TV spot that was produced for Bethel TV (out of Lima, Peru) to promote a one-hour interview he conducted on a Bethel TV program called The Bible Treasure. This program can be watched throughout South America and on Spanish-language TV in the USA. You can download the promo with Dr. Crandall here.
To find out more about Bethel TV, go to www.betheltv.tv/
The Vatican on Evolution
Many of you receive the news alerts from the Christian news agency
OneNewsNow.com
—affiliated with the American Family Association.
OneNewsNow contacted Dr. Terry Mortenson of our staff to comment on an upcoming meeting organized by the Vatican to discuss the teachings of the Roman Catholic Church on Genesis (though scholars who believe in intelligent design and not evolution have not been invited, we understand). Prior popes have indicated that evolution does not conflict with Church teachings—essentially, the Church teaches that it's faith on one side and science on the other.
Below you can access a website and read a transcript of an interview conducted by the news service with Terry that was done over the phone. He was asked to provide some commentary on the many anti-creation comments left by readers on the OneNewsNow website —where Terry had previously been interviewed about the Vatican and evolution. That article apparently provoked quite a response:
http://onenewsnow.com/culture/2009/03/05/the-vatican-and-evolution-creationist-responds
Thanks for stopping by and for praying,
Ken