Today, of course, is a milestone in American history. As someone who has studied and written on the topic of racism (I am the co-author of Darwin's Plantation with my friend Dr. Charles Ware—showing how evolutionary beliefs have fueled racism), I find it amazing that a nation that was segregated only a few decades ago now has a president with skin that's darker than the previous 40-plus presidents. Whatever your thoughts about this new president's intended policies (and I am gravely concerned about sanctity of life—as well as sanctity of marriage—issues), it's a remarkable day in America.
Yesterday we had a front-page web article on the topic of racism. It was a piece on a new exhibition that is travelling the country on the theme of racial reconciliation. While it has positive elements, the exhibition has quite a bit of evolutionary content. Read about the latest exhibition now on display at Cincinnati's Museum Center (not too far from our Creation Museum) and our comments on it: AnswersInGenesis.org/articles/2009/01/19/race-around-the-nation
Meanwhile, another exhibition under the same roof at the Cincinnati Museum Center has caught our eye ...
A Big Red Dog and Evolution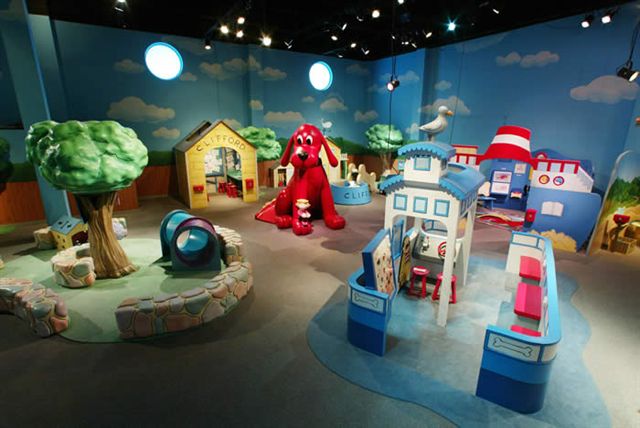 Photo from the Cincinnati Museum Center
How do these two things go together? Maybe some mutation has led to a giant, odd-colored dog? No, but read the connection that one staff member at Answers in Genesis made after paying a visit with her daughter to one of the museums at the Cincinnati Museum Center:
I recently had the opportunity to visit the Duke Energy Children's Museum in Cincinnati, not too far from the Creation Museum. My daughter is a big fan of Clifford and the children's museum had a Clifford exhibit she wanted to see so I took her. The exhibit was nice with lots of things for the kids to do.
As she went to each section of the exhibit, I started to notice signs on the walls that said "Clifford's Big Idea" and then gave one of "his" big ideas like, "Help others," "Have respect," "Be truthful," "Play fair," etc. Two things came to mind. First of all these ideas aren't original to Clifford; he's borrowed them from the Bible. For some of them like "Be truthful," I can even cite the chapter and verse without looking it up (Exodus 20:16)! The second thing I thought was why should children do the things that Clifford suggests? Children are learning through the media (TV, books, etc.) and public school that they are nothing more than animals and that truth is relative.
Even Clifford himself promotes these evolutionary concepts in an episode called "Dino Clifford". Emily Elizabeth (she's Clifford's owner) wishes that she could have been present when dinosaurs were alive. Another girl (an "authority" on dinosaurs since she is a paleontology student in college) corrects her and says that humans weren't around when dinosaurs lived. This is clearly anti-biblical since dinosaurs (as land animals) were created on the same 24-hour day as Adam and Eve (Day 6). The show also promoted the concept that trained scientists (like this college student) are really the authority on these matters, not the Bible.
Why not follow these big ideas, "Be mean to others," "Show disrespect," "Be deceitful," and "Cheat"? What animals do to each other is morally irrelevant and since truth is relative, there is no basis for saying these ideas are wrong and Clifford's ideas are right. A big red dog may influence children but it won't have any sway over these same children when they grow up and have to decide if they should cheat on a test or cheat on their spouse. Children today need a foundation built on the authority of God's Word. They need to know the Bible (not a big red dog) gives us the foundation for determining right and wrong.
My daughter and I heard a song on TV the other day about not lying. I told my daughter that lying was indeed wrong and then asked her why it was wrong to lie. She said because it is bad. I asked why it was bad. And she replied: because Jesus said not to lie.
Exactly! I am so thankful for the wonderful materials that Answers in Genesis produces so that I can lay the foundation of biblical authority in my daughter's life.
To Bee, Or not to Bee ...
A national "Bible Bee"—with a very large cash prize–has just come to my attention, and many friends of Answers in Genesis are involved in it.
The Shelby Kennedy Foundation is introducing its first annual Bible Bee of Bible of memorization, a competition for children and teens (ages 7 -18). Local Bible Bee Contests will be conducted throughout the U. S. in September 12, 2009, but the deadline for registering local Bible Bees is January 31.
If you're interested in hosting a Bible Bee in your community, visit www.biblebee.org for more information.
Thanks for stopping by and thanks for praying.
Ken