For those who subscribe to Answers magazine, they have already received AiG's spectacular special Darwin issue! Last week, Answers magazine Executive Editor, Mike Matthews, gave the AiG staff an overview of this special Answers issue (see photograph below). There are over 100 pages packed full of information about Darwin: the man, his teachings, how to answer Darwinian arguments, evolution's influence on the culture, and so on. It's the 200th anniversary of his birth next month.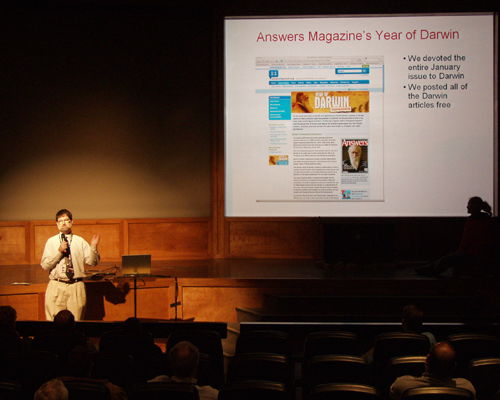 You can find out more about this unique issue from the Answers magazine website.
If you don't subscribe to Answers, I urge you to do so. The talented Answers magazine team has already put together the next exciting issue and are currently working on the one after that! Answers magazine is not only spectacular in its articles, but also its cutting-edge graphics—one of the greatest creation apologetic tools available in the world today. Answers also has a special lift-out Kids Answers "mini-magazine" and a pull-out collector poster/chart in each issue.
We praise the Lord for all the Answers team and their leader, Dale Mason, VP of Communications and the visionary behind each issue.
Answers for Darwin Conferences
As part of AiG's outreach to equip the church and challenge non-believers as Darwin's birthday approaches on February 12, we are conducting two very special conferences in February—our Answers for Darwin conferences. One will be in Lynchburg Virginia—East Coast, and the other in Costa Mesa California—West Coast. Both these conferences are free and feature leading AiG speakers (and other specialist speakers from
Liberty University
at the Lynchburg conference). For further information, go to the special Answers for Darwin website:
http://www.answersingenesis.org/events/answers-for-darwin
Remember the Atheist Bus Ads?
Remember the atheist-sponsored bus advertisements I spoke of in a previous blog? Well I thought you might be interested in this follow-up article from Christian Today:
http://www.christiantoday.com/article/christian.bus.driver.protests.no.god.ads/22328.htm
Former Archbishop of Canterbury Praises Darwin—and Has a Go at Creationists
In an article in the
Telegraph
newspaper (United Kingdom), we read concerning a former Archbishop of Canterbury, England:
However Lord Carey, who was the most senior cleric in the Church of England between 1991 and 2002, conceded that atheists are right to criticise the "pseudo-science" of creationism. He claimed Christians are playing into the hands of anti-religion campaigners by defending Biblical accounts of the earth's history, and praised Charles Darwin, the pioneer of evolutionary theory, as "one of the greatest human beings of all time".
You can read the entire article
here
.
As I have often stated, one of AiG's greatest mission is to the church, and some of the greatest opposition we have to deal with comes from the church and other Christians.
Devotion
The marvel

(2 Chronicles 6:18) But will God in very deed dwell with men on the earth? (1 John 3:24) And hereby we know that he abideth in us, by the Spirit which he hath given us.

The marvel that lifts our step & puts a smile on our face is the knowledge that the Lord Jesus Christ lives in us & His Spirit is making His presence real to us.
Thanks for stopping  by and thanks for
praying
,
Ken