The AiG office and warehouse are like a bee hive--lots of busy people getting ready for the MEGA conference next week. Pallets of books are being shipped (see photo)—volunteers are working hard putting conference manuals together (see photo)—others are finalizing the program schedule, travel and all the myriad of things that need to be done for such a major event.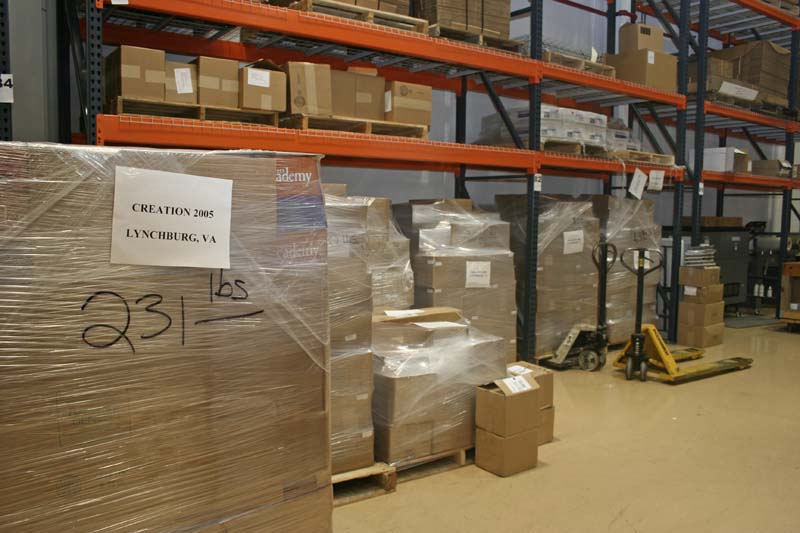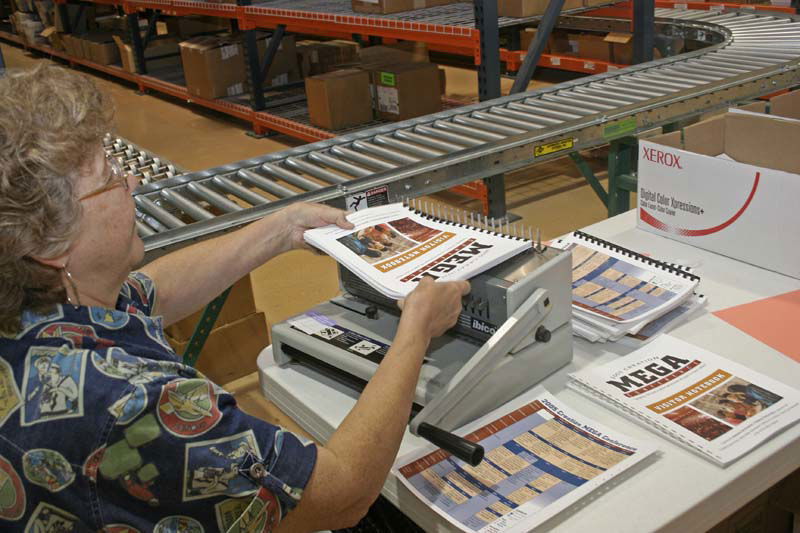 VISITORS
I continue to be amazed at the number of people who are coming to AiG each day to see the Museum construction—and it's not open yet! People are just so excited to see what's happening! If we get this many now—we can't even being to imagine how busy it is going to be when the Museum does open!
Yesterday, there were three bus loads of people from various places that came for tours as well as various families who travelled by car throughout the day. Also some missionaries called in yesterday from Brazil, Australia and West Africa.
One group who came from Indiana sent the following email to one of our staff: "Thank you for everything you did to make our visit so pleasant. Every thing went like clockwork. From the greeting outside, then lunch, a wonderful welcome and motivational time at the special effects theater by you and Carl and of course, the tour itself. Our people were so pleased and blessed. Dorothy really appreciated the wheelchair service. Everyone was very excited in anticipation of the opening of the museum. I heard many comments about plans to come back both before and after the museum is open. We are going to create a "roar" at our church when we share our experience with the people of Christian Fellowship. Carl, God has blessed you with the special gift of speaking — your message was great! I'm going to meet with our pastor this week to confirm your visit to CFC next spring. What a wonderful event to look forward to!
While on the bus we watched videos the whole time. I gave away books, videos, and a lot of Creation magazines. I also passed out subscription forms to Creation Magazine and Museum gift brochures. We have money left over from the bus expenses plus donations, that we will be sending as a Museum donation. I don't have a total at this time but suspect it will be close to $500.
Thanks again for all you did to make our visit so special.
P.S. I really enjoy "Ken Ham's Blog"
The excitement about the creation museum is growing.
CHRISTIAN LEADERS LUNCHEON
Carl Kerby conducted one of our Christian leader's luncheon today. About 40 attended the luncheon which included a talk by Carl, tours through the Museum and an address by myself at the luncheon. Each of the leaders was given a bag containing books, DVD's and other materials donated by one of our supporters specifically for this event.
MORE MEDIA
Yesterday :
I spoke to a producer in London (UK) with the BBC concerning a documentary series they are going to be filming on "time"—they are looking at coming over to AiG in September to interview various people and film what we are doing at the Creation Museum.
I also was interviewed by a secular newspaper (weekly) that is published in Northern Kentucky.
A Christian radio network interviewed me about the latest statements by a couple of Roman Catholic Cardinals who have publicly stated that the Catholic Church accepts Theistic Evolution. I was able to point out the inconsistencies in trying to add evolution to the Bible and how this undermines biblical authority and the gospel. Excerpts of the interview will be played on the network's news program.
Well, today I spent time with my secretary working through my schedule for the MEGA conference and then for our trip to Israel — I will basically be out of the office on the road for the next three weeks—my wife Mally will be with me, so that is a real blessing. We also had a meeting with our speakers and seminar staff today as part of ensuring the whole outreach department runs smoothly and we are all up to date with all the things going on. We just employed three new event managers in the outreach department as the number of meetings and speakers has increased.
BLOG FEEDBACK
A couple of days ago I mentioned the talk I gave at Alabama concerning the "Greeks" and the "Jews"- I received this feedback:
"I can see the insight in the argument that some think like Greeks, some like Jews when it comes to the gospel.
Your ministry has changed my life and reinforced my faith;so much so that I feel a renewed boldness to witness for Christ effectively and see fruit from it. The church really does need to know how to help people overcome their intellectual barriers to trust in Christ. Love in Christ, and I pray that He blesses you with the reward of seeing people come to faith everywhere you go."
Thanks for stopping by and keep praying!
Ken