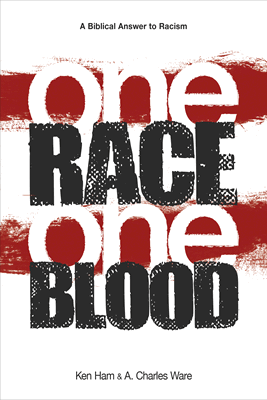 I was taking questions on a live Christian radio talk show and had just answered one about the origin of the supposed human races. I listened as the host patched in the next caller, who blurted out, "I'll believe we are all one race when you can show me two black people having a white baby and two white people having a black baby."
I replied, "I can show you pictures of what are called 'black and white twins'—one twin is very dark and the other very light." (You can't show pictures on radio, unfortunately, so all I could do was to describe the picture to the caller.)
"There is no way those two babies had the same father," the caller responded. "That is impossible. White people and black people do not belong to the same race."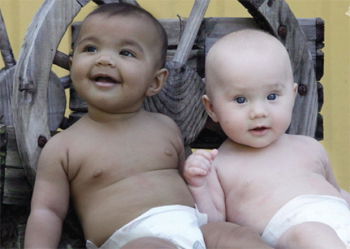 Such prejudice, as betrayed by this caller, still exists in certain Christian circles in America and around the world, to my amazement (and disgust).
But it is not just the Christian world where people find "black" and "white" twins incredible—it is also shocking to the secular world. They are surprised because they ignore the Bible's account that we all came from one race (begun by the first man and woman, Adam and Eve) and dispersed as a result of the Tower of Babel, which led to the formation of people groups (Asians, Caucasians, and so on). They assume, instead, that human groups are deeply divided by significant variations over tens or hundreds of thousands of years and that different people groups originated from different "ancestral apes."
Are There Really "Black and White Twins"?
Over the last several decades, many examples of fraternal twins, where one is very dark (called "black") and one very light (called "white"), have been documented. Fraternal twins usually occur when two different eggs are fertilized by two different sperm cells and implanted in the mother's womb at the same time.
Documented examples of fraternal twins being "black" and "white" include:
In reading over the various news reports on the above sets of twins, I noticed that one reporter called such occurrences "freak," and others quoted scientists saying that the chance of "black" and "white" twins was a million to one.
Some of the parents of these sets of twins have shared that people stopped and stared when they saw the "black" and "white" children. Some pointed, and others commented that they couldn't be from the same parents. Some even made racially prejudiced statements about one of the dark-skinned twins. Some believed the parents were lying about their being twins with the same father.
According to the Bible's history, only one biological race exists. The Human Genome Project came to the same conclusion.
But in reality, such sets of twins are quite easy to explain and should not invoke such responses. So how can such "black" and "white" twins—though quite rare—be explained?
According to the Bible's history, all humans are descendants of Adam and Eve—thus only one biological race exists. All humans in the world today are classified as Homo sapiens sapiens (same genus, species, and subspecies). When the Human Genome Project published a draft of their findings in 2000, the New York Times reported that "the researchers had unanimously declared there is only one race—the human race."
To form different people groups with distinguishing characteristics, one would need to split up the human population and isolate groups from each other. The Tower of Babel, as recorded in Genesis 11, provides the historical basis for the formation of such people groups. There is so much information in the human genome that zillions of combinations are possible.
Yet all humans basically have the same skin color—a brown pigment called melanin. Although there are a couple of forms of melanin and other pigments and factors playing minor roles in skin color, every human basically has a brown color.
Lots of brown is called black, and a little brown color is called white. In actuality, no human really is "black" and no human is "white." There are not different colors but different shades of one basic color, brown.
While many factors are involved in determining skin color and the steps are very technical, basic genetics can help us understand the most important principles.
Assume dominant genes result in lots of melanin and recessive genes result in little melanin. Adam and Eve were most likely a middle brown color with both dominant and recessive genes for the pigment melanin in the skin. Children who received all the dominant genes would end up with a lot of the color and be very dark. Children who received all the recessive genes would end up with only a little color and be very light. Children with a mixture of the genes (both dominant and recessive) would be middle brown.
Of course, many combinations are possible. But provided that the parents have between them mixtures of the dominant and recessive genes, children could exhibit a large range of skin shade. With fraternal twins, one twin could inherit genes for lots of melanin while the other could inherit genes for little melanin.
So it's not just "black" and "white." Bottom line: a person's skin shade (what is on the outside) should in no way invoke any sort of prejudice or racist comments. What a difference we would see in our world if people reacted in accord with biblical principles, understanding all humans are equal before God, and all are sinners in need of salvation. All of us need to build our thinking on the absolute authority of the Word of God, judging all beliefs and attitudes against the clear teaching of what our Creator God teaches us.
God reminded Samuel of this when He said, "For the Lord does not see as man sees; for man looks at the outward appearance, but the Lord looks at the heart" (1 Samuel 16:7).