AiG's many speakers travel around the globe, spreading a vital message: Genesis holds the "key" to reclaiming Western cultures, which face moral collapse in the wake of the church's two centuries of compromise on the authority of God's Word (by adopting "millions of years" and evolutionary ideas).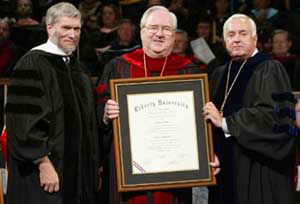 On Friday night, 7 May, at baccalaureate ceremonies, Liberty University honored Ken Ham, co-founder of AiG International, with a doctor of literature.
Dr Jerry Falwell, founder and chancellor of Liberty University, presented Ken with the degree. A nationally recognized minister and television host, Dr Falwell has led a decades-long crusade against abortion and moral collapse in America. He believed it was important to recognize the role that AiG is playing in this fight, under the leadership and vision of Ken Ham.
Among AiG's outreaches, recognized by Liberty, is the radio feature Answers … with Ken Ham, broadcast on more than 690 stations worldwide. AiG also produces the full-color Creation magazine, now in its 25th year. Other major AiG outreaches, overseen by "Dr Ham," include this website and the Creation Museum now under construction.
Doctor of literature
At the ceremonies, Dr John Borek, president of Liberty University, explained why the school was conferring a doctor of literature on Ken Ham:
"His engaging intellect, keen sense of humor and captivating stories have made him one of North America's most effective Christian communicators. … He is the author of numerous books and articles, and his writings and lectures provide biblical and scientific answers to some of the most difficult questions raised about the Christian faith."
Ken's popular books, written for both adults and children, include The Lie: Evolution, Genesis and the Decay of the Nations, Dinosaurs of Eden, D is for Dinosaur and A is for Adam, Why Won't They Listen: the Power of Creation Evangelism. Ken has co-authored several other books with other speakers at AiG, who share his vision, including The Answers Book, One Blood: the Biblical Answer to Racism, The Great Dinosaur Mystery Solved! and Walking through Shadows: Finding Hope in a World of Pain.
While these books cover vastly different topics, they share one overriding burden: challenge Christians with the truth that the church lost the battle for the culture when it surrendered its foundations in Genesis and accepted an antibiblical version of history that includes millions of years of death and suffering. See Our Rallying Cry.
A shared burden
Dr Falwell first invited Ken to speak at Thomas Road Baptist Church in Lynchburg, Virginia, in 2002, where he gave a major weekend series. This series was rebroadcast on the Liberty Channel and is now a powerful teaching video set, called the Creation Mini-Series.
In January of this year, Dr Falwell visited AiG's USA headquarters and toured the Creation Museum construction site. He then featured the museum in his National Liberty Journal (March 2004), expressing his strong support for the project.
"The museum is located within one day's drive of two-thirds of America's population. This will make it possible for Liberty University and hundreds of Christian schools to bring classes for a one-day learning experience at the museum. I predict that this Creation Museum will be visited by millions, and may very well play a major role in bringing many churches of the world back to a strong stand on biblical creationism."
In February, Dr Falwell invited Ken back to Lynchburg to speak at his church and to challenge the students at Liberty University's convocation. After hearing Ken's messages, the chancellor wrote a glowing commentary If the Foundations Be Destroyed in his widely read Falwell Confidential report, concluding,
"I believe this organization is developing into one of the most important Christian ministries in the world. They are now building a massive Creation Museum near the Cincinnati International Airport, which will skillfully address the issues of Genesis and further defend the foundations of the Bible."
New degree … same ministry and message
Ken Ham may have a new degree, but the heartbeat of AiG is still the same. It's not about titles or honors, but a message. AiG speakers are a team, with a common burden to uphold the authority of God's Word.
AiG has attracted exciting and invigorating speakers, with a wide range of backgrounds and talents, including scientists and scholars in such fields as chemistry, geology, meteorology and biology, as well as teachers, writers, engineers, a former physician and even an air traffic controller. Every one of them wants to equip and inspire Christians to see how the "answers from Genesis" are for everyone in the pew.
Why not see if there's a meeting in your area, and see what AiG is all about?