Answers Live
Three, two, one … AiG is live on the air! The Answers in Genesis website now offers live video streaming of some of our popular conference talks and speakers. In March we launched this new feature at answersingenesis.org/live by streaming two key talks from our Children's Ministry Conference. (Actually, you can still watch Ken Ham's eye-opening presentation about the real state of the nation in our Video on Demand section.)
Under the hood, we've added a robust live video streaming tool that will allow us to broadcast more events to more devices. Our new streaming media functionality lets us broadcast live events to the general public or to specific audiences. What this means for you is that more of our conferences, speakers at the Creation Museum, special engagements, and web-only events are now available for viewing as they take place. A big advantage of this new service is the ability to broadcast to iPhones and other mobile devices that were previously not supported.
Our live video events for the general public will be available both on our SermonAudio page and on our own live video site. As we continue to develop this page, you will find a selection of previously broadcast events available on demand with links to other relevant content and materials. Our goal is to provide a single channel of live and on-demand free content that gives people the solid, biblical answers they need.
Answers for Women
While we're talking about live streaming events, we want to point out that our Answers for Women conference is coming up in May. We encourage you to attend the entire conference held at the Creation Museum, but for those who cannot make it, there is a strong possibility that a couple of the six talks will be streamed live. In addition to attending all the sessions, the conference experience offers benefits such as the sharpening fellowship of other like-minded believers, significant discounts on resources, and opportunities to have your questions answered by the speakers. At Answers for Women, you will hear from speakers such as Dr. Georgia Purdom and Mary Mohler, who are passionate to equip women to love God with all their minds (Mark 12:30). Learn how to respond to the current challenges of false teachings such as evolution and feminism. Register now to attend this exciting event for women, or mark your calendars for May 3–4 to watch it live.
In Store: Back to Babel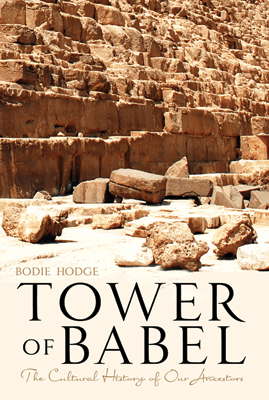 What does humanity's shared ancestry have to do with the ghost town of Babel? Many skeptics dismiss the Bible's account of the iconic Tower of Babel as myth. But we can trust the Bible's history and follow other historical clues to trace humanity's lineage back to that abandoned tower.
In the newly released book Tower of Babel, author and AiG speaker Bodie Hodge reveals the cultural history of the early family groups that formed when God confused the language at Babel and scattered the people groups throughout the earth. After beginning with the biblical accounts, piece together ancient texts, critical clues, and rare historic records to form a better picture of what happened to the families that built Babel and reaped God's discipline for their rebellion.
Teens and adults can use this layman-friendly overview of what happened during the Tower of Babel dispersion, and beyond.
Question of the Month
How can I get an AiG speaker to come to my church?
Lots of people ask us this question, and we're delighted to help your church plan a conference to equip and encourage believers. To make it simple for you to request an AiG event, we have an online form you can fill out. In four easy steps, enter in the event type you desire (live or video conference), your personal information, the information of the church and venue, and the event details.
Take a look at our conference calendar to check if an event is already planned close to your area. You can also get to know our speakers, even watching some videos of them and reading their blogs, by visiting our speakers page.
Have questions about AiG events? Feel free to call 800-778-3390 to discuss your conference needs.
Did You Know?
We hope you've enjoyed reading InSite as much as—or even more than—we have enjoyed writing it. But now it's retiring. Yes, InSite is going away after this article. But don't worry—we have plenty of other ways to keep you informed of new features and changes on our AiG family of websites. Check back for our daily articles, peruse Ken Ham's blog, "like" us on Facebook, follow us on Twitter, and sign up for our free email newsletters. If you stay connected, you're not likely to miss any important happenings around AiG.
If you ever want to look back through the many topics InSite has covered over the years, visit the archive page and scroll through. You'll find a fascinating record of website changes, top products, and answered questions each month since March of 2008. Farewell, and happy exploring!