Extremely popular among his first-year medical students, and now exciting audiences across North America with his humor and well-illustrated talks, AiG-US speaker Dr. David Menton spent 34 years teaching at medical school. He now devotes himself full-time to reaching the church (and some secular groups) with the Creation message.
Here is his "creationist testimony."
Entering the Kingdom of God as a Little Child
I was born in Mankato, Minnesota in 1938 and was baptized at a local conservative Lutheran church. Like many people who were baptized and raised by Christian parents, I have no recollection of the precise moment I became a Christian, nor do I recall a time when I was an unbeliever. As Paul said of Timothy, "from a child thou hast known the holy scriptures, which are able to make thee wise unto salvation through faith which is in Christ Jesus" (2 Timothy 3:15).
By the grace of God and through the power of the Holy Spirit, I grew in the knowledge of God's Word during my youth. I was especially blessed by two years of intensive confirmation instruction where I was given a firm foundation in the Scriptures and Christian doctrine. "Remember now thy Creator in the days of thy youth, while the evil days come not, nor the years draw nigh, when thou shalt say, I have no pleasure in them" (Ecclesiastes 12:1). I came to treasure the Gospel-filled hymns of my church, its abundant offering of the means of grace through the Word and Sacraments, and its beautiful and meaningful liturgy.
Preparation for a Career in Science
As I grew older, I developed a deep interest in science and from the time I was in junior high school I knew that one day I would be a scientist. Most of the toys I requested for gifts on my birthday and at Christmas came from the A. C. Gilbert Company, best known as the maker of the Erector set. Over time I came to possess a Gilbert chemistry set, microscope set, glass blowing set, and mineralogy set. Later an astronomical telescope was added to the inventory of my home laboratory and finally a pair of binoculars for bird watching. I doubt my parents ever heard me complain that there was nothing to do.
I attended public schools rather than our church's Christian day school. This presented less of a problem than I suspect it would today because in those years evolutionary dogma and its social implications had barely found its way into most public schools. Even during my undergraduate college years studying the sciences at Mankato State University I was largely spared the profitless speculations of evolutionists.
After graduating from Mankato State with a major in biology and a minor in chemistry, I spent two years as a research laboratory technician for the department of dermatology at Mayo Clinic in Rochester, Minnesota. While at Mayo I was invited to pursue a PhD in cell biology at Brown University in Providence, Rhode Island.
A Long and Successful Career at Washington University School of Medicine
Following my graduation from Brown in 1966, I accepted a position on the faculty of Washington University School of Medicine in St. Louis, Missouri where I remained in the department of anatomy for 34 years until my retirement in the year 2000. During this time, I taught first year medical students histology (the study of the structure and function of the tissues and organs of the body at the microscopic level) and gross anatomy (the dissection and study of the human body as seen by the unaided eye). Over the years I did research on skin, bone, the kidney, and the placenta.
Under the Shadow of His Wings
I have often been asked how I managed to survive in a high-powered scientific environment where it was uncommon to find a Bible-believing Christian and creationist. There is no doubt that the Lord "kept me as the apple of His eye, and hid me under the shadow of His wings" (Psalm 17:8). While few of my colleagues shared my views on Christianity and creation, they treated me with respect, and my students considered me to be among their best teachers in the preclinical sciences. How was this possible when we are often told that nothing in biology makes sense without evolution? The fact is that though widely believed, evolution contributes nothing to our understanding of empirical science and thus plays no essential role in biomedical research or education.
Today we are hearing threats from some college professors to not matriculate, pass, graduate or recommend anyone who dares to question Darwinism. Professional science organizations, popular science magazines and the news media are becoming more and more strident in their bitter condemnation of creation and creationists. We even hear vigorous denials that an organ as marvelously complex as the human eye shows the slightest evidence of purpose or intelligent design. "Why do the heathen rage, and the people imagine a vain thing?" (Psalm 2:1).
Sadly, even many Christian churches and denominations have attempted to make their peace with Darwin lest they appear foolish in the eyes of men. Better we follow the inspired advice of Paul to the Corinthians, "Let no man deceive himself. If any man among you seemeth to be wise in this world, let him become a fool, that he may be wise." (1 Corinthians 3:18). For this and other reasons, I decided to retire earlier than I had once anticipated so that I might sound a warning and give encouragement to all who would hear.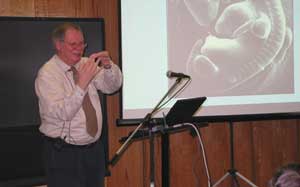 An Opportunity to Speak for Answers in Genesis
Shortly after retiring from Washington University, I was asked to join Answers in Genesis as a seminar speaker. This great organization has given me the opportunity to speak throughout the United States as well as in many foreign countries. I have developed nearly 20 different computer illustrated talks covering diverse topics from the history of the Scopes trial to the profound implications of evolution for the Christian. I particularly enjoy drawing on my personal experience in the laboratory and employing pictures I have taken with both the light and electron microscope to give laymen a better appreciation of the marvelous complexity of our body.
Whether examining the marvelous complexity of the human eye or something as seemingly simple as a human hair, I seek to show the sovereign and awesome power of our Creator and contrast it with the total inadequacy of man in attempting to explain such things without Him. This was essentially the lesson that God gave to Job (Job 38–42). Let us then join Job in confessing: "I know that You can do everything, and that no purpose of Yours can be withheld from You" (Job 42:2).
---
Profile of an "Evolution Refuter"
PhD, Cell biology, Brown University
Former research technician at Mayo Clinic, Rochester, Minnesota
Associate Professor of Anatomy at Washington University School of Medicine, St. Louis (1966–2000)
Elected "Professor of the Year" in 1998 by the Washington University School of Medicine Class of 2000
Profiled in American Men and Women of Science for almost two decades
Author of numerous articles in technical journals on bone, wound healing, and skin biomechanics
President of the Missouri Association for Creation, St Louis, Missouri
To request Dr. Menton as a speaker for your church or college in North America, call 800-350-3232.