Have you ever dreamed of visiting Branson, Missouri, USA, the "Live Music Show Capital of the World?" Perhaps the program on May 14–16, 2004, is just the excuse you've been looking for!
AiG will be participating in a special Worldview Weekend "Family Reunion," bringing along Creation Museum models, artwork, artists, sculptors and AiG's own down-to-earth speaker Carl Kerby. Carl will be speaking on Sunday, as well as sharing two stirring talks with the teens on Saturday (see titles below).
Non-AiG speakers at the Worldview Weekend include big names like Josh McDowell and David Jeremiah.
Exclusive "Living" Creation Museum Display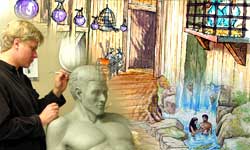 AiG has set aside a special display area at the conference center, so you can meet some of the sculptors and artists at the Creation Museum, see some samples, and talk to them about their work. Plenty of realistic floor-plan models, concept drawings and cool sculptures!
Also, meet Patrick Marsh in person—the Creation Museum designer whose list of designs include the King Kong and Jaws attractions at Universal Studios.
Ventriloquists, patriotic music, comedy, bluegrass, Southern gospel … there are all sorts of other things to do at the Worldview Weekend "Family Reunion." Includes free time for afternoon tours to fun spots like Silver Dollar City.
Carl Kerby Pours out his Heart
And while you're there, make sure to grab a front-row seat to hear Carl Kerby, who'll speak to the general audience on Sunday about "Genesis: 'The Bottom Strip' of the Christian Faith." He'll also give two of his most memorable talks for teens on Saturday—"Fossils: Friend or Foe?" and the colorful talk "What's the Best Evidence That God Created?"

Carl Kerby, son of a professional wrestler, has an exciting testimony about the power of the creation/gospel message to change lives!
Carl says his passion—and the passion of Answers in Genesis—"is not just about creation and evolution. It's all about getting people to trust God and His Word without reservation."
Ken Ham calls Carl "One of the most dynamic, easy-to-understand speakers on Genesis in America today." You don't want to miss him.
We're looking forward to meeting you. Ya'll come!