We were taken by surprise recently at the annual meeting of the Northern Kentucky Convention and Visitors Bureau. That evening, we learned that Answers in Genesis and our two world-class attractions, the Ark Encounter and Creation Museum, were recognized by regional tourism officials and awarded the prestigious Star of Tourism Award.
A news report on this tourism event and awards ceremony stated,
Northern Kentucky's travel and tourism industry continued to boom in 2016, generating nearly $1.7 billion of total economic impact including $388 million spent by visitors to Boone, Kenton and Campbell counties, it was announced Thursday at the meetNKY/Northern Kentucky Convention and Visitors Bureau annual meeting. . . .

During Thursday's meeting, meetNKY presented its Star of Tourism award to Answers in Genesis in recognition of its dedication to promoting Northern Kentucky as a showcase for faith-based tourism and events. "Since it's opening in July 2016, the Ark Encounter has introduced Northern Kentucky and Cincinnati USA to thousands of new visitors," Eric Summe [president and CEO of meetNKY] said.

"We are delighted to celebrate the success of both the Ark and the Creation Museum as well as Answers in Genesis' dedication to bringing first-time and repeat visitors to NKY. They are also phenomenal partners in assisting our growth in the faith meetings industry."1
During the ceremony, Mr. Summe's Convention and Visitors Bureau handed out a copy of his group's annual report. It had glowing details of the increase in tourism in the area—and the Ark was pictured and called the catalyst for this growth: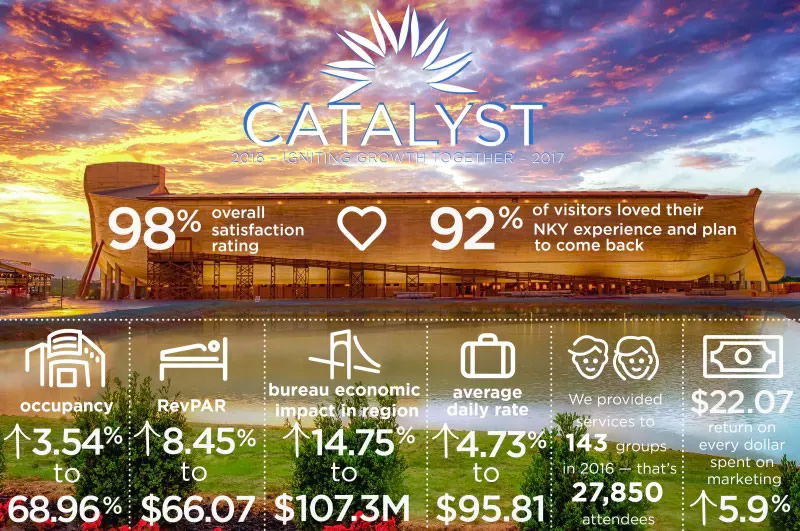 This award given to AiG is a phenomenal witness to all the tourism-related businesses and organizations in our community, state, and nation. It clearly demonstrates how an overtly evangelistic, Christian-themed attraction can be a leader to bring people into a region and have a great economic impact.
The most important impact of all regarding the Ark and museum is a spiritual one.
Now, even though we are thrilled to be recognized as a tourism leader in the entire region, the most important impact of all regarding the Ark and museum is a spiritual one. The value is priceless! Guests from all over the world are coming to Kentucky to visit the Ark and Creation Museum. These guests include a significant percentage of non-Christians—and they are hearing the gospel.
Visitors I meet at the Ark often comment to me about how amazed they are to see such a wide diversity of guests.
We've heard numerous testimonies from visitors to the Ark and Creation Museum who have received Christ as Savior or have received answers to questions that have plagued them for years. Many have been emboldened to share their Christian faith with others.
A family in Arizona recently wrote and blessed us with this comment:
We visited the Ark last October. I could say so much, but I will just say that I felt as though I had been given a breath of fresh, pure, 100%, Garden of Eden oxygen! I wanted to soak up every bit of the absolute truth presented in each exhibit and did not want to leave!

Kentucky, you don't know how blessed you are to have this!
The mother who wrote this note explained the impact the AiG ministry has had on their children. And we've heard other testimonies about children more times than I can remember. What a priceless impact that is!

10th Anniversary!
This tourism award coincides with a major milestone: the 10-year anniversary of the Creation Museum, which opened on Memorial Day weekend 2007. To celebrate this special anniversary, later this month (on Memorial Day weekend), we will open a new exhibit at the museum.
With stunning artwork that clearly teaches the saving gospel, this large exhibit goes more in depth about the last 3 C's of the museum's Seven C's of History: Christ, Cross, Consummation. Come see it for yourself, and help us celebrate our special anniversary.

Yes, I agree with our visitors who are declaring that the Creation Museum and Ark Encounter are beyond Hollywood in quality. AiG wants to see that this quality of presentation and messaging has its desired impact, so the world will know that AiG is "not ashamed of the gospel, for it is the power of God for salvation" (Romans 1:16).
I just love that statement above: "I felt as though I had been given a breath of fresh, pure, 100%, Garden of Eden oxygen!" And that "oxygen" from both the Ark and Creation Museum is reforming and reviving hearts and minds all around the world.