Upcoming Event: An Adventure Through History
Grand Canyon—it's a rift in the landscape that often symbolizes the debate over the Bible's authority. The layers of stone and sediment tell a story, and many people have been told that story takes millions of years. But that's not what God's Word teaches—and there's a great deal of evidence that this massive canyon took much less time to form.
Now you have the chance to see that evidence up close as you ride down the Colorado River on one of our white-water rafting adventures.
Join Tom Vail, seasoned tour guide and author of Grand Canyon: A Different View, on a truly unique rafting experience. These thrilling trips churn down the river on motorized rafts through Grand Canyon while you learn about God's judgment during the Flood. All trips include daily hikes to explore side canyons, great food, fellowship, and teaching.
You'll also join up with some well-known creation researchers, such as Dr. Andrew A. Snelling, Dr. Danny R. Faulkner, or Dr. John Whitmore. These scientists will show you just how creation confirms what Scripture says.
For the 2013 season, Canyon Ministries and Answers in Genesis have teamed up to offer three exciting trips from April through June. The trips range from a four-day adventure to a nine-day expedition, and each is packed with incredible sights. If you can't make one of those fit, Canyon Ministries also offers additional trips perfect to fill an open spot in your schedule. There's also a college-level Foundations Class for students.
If you're ready for adventure, be sure to sign up today. Our Grand Canyon tours sell out in the same way that the canyon formed—quickly.
You'll find much more about the trips on our Grand Canyon event page. So, let's go "boating"!
Adventure Awaits in the Kingdom Chronicles VBS
Hear ye! Hear ye! Teachers and tutors, you are cordially invited to experience the Kingdom Chronicles VBS. It's clear we're in a battle—a battle for truth between God's good kingdom and the Enemy's bad kingdom. We need to help our children stand strong in this battle by equipping them with the armor of God.
In Store: Face to Face with the Universe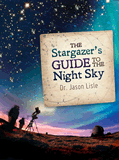 There's something about the night sky that captures our imagination and evokes a sense of awe and wonder. And our appreciation of the magnificence of creation is enhanced as we learn more about the cosmos. You'll come face to face with just how amazing our universe is in The Stargazer's Guide to the Night Sky by Dr. Jason Lisle.
We've all seen beautiful images of the universe taken by professional astronomers. But what many people don't realize is that these celestial wonders are within the range of a small telescope. You just have to know where to look. In fact, there are many heavenly gems (such as star clusters) that look beautiful in binoculars. Even without any optical aid, there are countless celestial treasures that can be seen with the eye—if you know where and how to look for them.
The Stargazer's Guide is written for anyone—especially those who have no experience in astronomy but want to learn how to best enjoy the night sky. If you have a small telescope, the star charts in this book will help you find the most spectacular celestial objects visible in such a telescope. If you are considering buying a small telescope at some point, this book will show you what things to consider. But even if you have no intention of ever owning a telescope, there are many cosmic wonders that can be seen by the unaided eye—or with low-power binoculars. And this book will show you how to find them. If you have ever looked up into the night sky and wanted to know more about what you are seeing, this book is for you.
The Stargazer's Guide to the Night Sky will unlock the night sky allowing you and your family to better appreciate this marvel of creation.
Question of the Month
How can I see what Answers in Genesis events are planned in my area?
Finding out is probably easier than you realize. Simply head over to our simple-to-use Answers Outreach website, and you'll find a number of tools to help you search.
If you're new to the site, Answers Outreach is the "missionary" arm of AiG. Our outreach team and speakers are dedicated to sharing why Scripture is always reliable—even in our scientific age. Events range from talks at local churches to video events to full-blown conferences with several speakers, worship music, and more.
You'll notice that there's a tab for "Outreach events" at the top of the AiG website so that you can get to it quickly. But here are some tips to help you. For example, you'll probably want to start your search on the Conferences page, which has a calendar of upcoming events. If you don't see one near you, just run a quick search using the form on the lefthand side of the page. You can also sign up to receive an email when an event is posted nearby (use the box below the search).
More of a visual searcher? Well, we can help you there, too. On our Conferences Map page, you can quickly scan for upcoming events near your home—or near where you're headed on vacation.
If you can't find something near you, don't worry. Perhaps your interest could lead you to plan an event at your church. We've made it easy to request one (just four online steps). Or you could also become a Video Conference Coordinator and coordinate your own area events (the page explains what's involved).
(Have a question for InSite? Let us know! Be sure to mention that your question is intended for InSite.)
Did You Know?
Did you know that we always focus on making it easier for you to find what you're looking for on our site? For example, we've tweaked our online store to filter your search results by age group, author, format, and technicality. Go ahead and run a quick search to try it out.
About InSite