Feature Highlight: Go Big
When you land on the Answers in Genesis website, you're greeted with something big. Last month, for example, you found yourself face to face with a big image of Lucy, the notorious lost ape. And this month, it's a big question about Cain and perhaps the most famous mystery woman in history.
Each month, the Answers in Genesis web team works to create an interesting place to start—a hot-button topic, a thought-provoking insight, or a shareable answer that gets people talking. We want those who've never been to our site—and those who visit every day—to look at the big stories from a biblical perspective. Plus, these features give us an excuse to give away something for free—usually clips from our popular resources or exclusive downloads.
Recently, we've been pulling some of these important questions from Ken Ham's Foundations series. This big DVD set tackles some of the most-asked questions people have about the Bible. (So, you can see that it's a natural fit for the front page.)
This month's front-page feature, in fact, is a great way to introduce your friends to our site. It's a question many of them have probably asked. And we've made it easy to share with the social media buttons at the top, including Twitter, Facebook, and Google+ (actually, they're on all our pages).
And if you're new to our site, our previous front-page issues haven't just disappeared into the web graveyard. We save them in a special archive so you can review and share. Each one will help you understand the biblical worldview and how science confirms Scripture.
As to what's coming in the next few months, well, that's always a big secret. And if you have an idea for something that would make a big splash, we're always listening.
Adventure Awaits in the Kingdom Chronicles VBS
Hear ye! Hear ye! Teachers and tutors, you are cordially invited to experience the Kingdom Chronicles VBS. It's clear we're in a battle—a battle for truth between God's good kingdom and the Enemy's bad kingdom. We need to help our children stand strong in this battle by equipping them with the armor of God.
In Store: Wise Counsel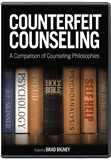 Secular ideas can be subtle. Sometimes they slip into areas that Christians don't even see. But if we're to stand completely on the Word of God, then we have to take every area back from evolutionary influences. And that includes counseling—as you'll see in the new DVD Counterfeit Counseling.
The field of counseling has been dominated for the past one hundred years by psychology and a therapy industry inundated with Darwinian approaches and New Age mysticism. But long before Sigmund Freud's ideas spread across America, the Puritan Christians were using their Bibles effectively to do what they called "soul care," addressing the struggles of people facing depression, grief, marital issues, anger, addictions, and more.
The word psychology comes from the words psyche and logos, which mean "a word about the soul." Who would have a more accurate and timeless word about the soul than our Creator God in the Bible? Unfortunately, many Christians who hold strongly to the authority of God's Word still falter when it comes to counseling, even "biblical counseling."
In Counterfeit Counseling, pastor Brad Bigney highlights the foundation from which modern counseling is derived and reveals how the basic principles are often contrary to God's Word. It's time for God's people to turn back to the Bible when it comes to counseling those who are suffering and confused by life in this fallen, broken world.
It's time to take back every area from destructive evolutionary ideas.
Question of the Month
I'm curious about what AiG is doing to reach people in other countries. Is there a place on your website that deals with this?
Answers in Genesis exists to call the church back to the authority of God's Word. While the Creation Museum is in the U.S. (though visited by people from around the world), we want to reach the church wherever it is—and that means being global in our focus.
For one thing, we have a European office based in the United Kingdom. A number of speakers—such as Professor Stuart Burgess—visit churches in the area to share why Scripture can be trusted. In fact, for those of you in Europe, you can even localize our website by using the country drop-down menu at the top of the site.
But our efforts don't stop there. Thanks to the ambitious International Outreach outreach, AiG has begun having an impact in other places as well—especially in Asia and Central and South America. One way that we've done this is by translating articles into several languages and by holding groundbreaking conferences.
In fact, right now, our Answers Worldwide team is taking on the Olympics, along with a group of dedicated volunteers. But they're not there to watch the competition—their goal to share the gospel with people from all over the world. Ken Ham is also speaking at a number of local churches to equip Christians and challenge seekers.
If you're curious about our activities outside the U.S., you can search our outreach site for international events. And, as always, our International Outreach page details the lengths we go to defend the Bible.
(Have a question for InSite? Let us know! Be sure to mention that your question is intended for InSite.)
Did You Know?
Did you know that interest in the so-called "god particle" has brought plenty of viewers to two of our articles? A brief news item we recently posted about the particle received thousands of hits, and our article, Beams Collide Today in Expensive Hadron Collider, also rose in popularity. If you're interested in Higgs Boson, keep checking our website and News to Know because this topic is sure to come up again soon.
About InSite