Special Event: Carve Your Way Through Grand Canyon
Grand Canyon—it's a rift in the landscape that often symbolizes the age-of-the-earth debate. Split by the Colorado River, this majestic canyon inspires millions of visitors each year. Unfortunately, many of them never hear the truth about this testament to catastrophe or see the evidence up close.
But you can—on one of our white-water-rafting adventures.
Join Tom Vail, seasoned tour guide and author of Grand Canyon: A Different View, on a truly unique rafting experience. These thrilling trips churn down the river on a motorized raft through Grand Canyon while you learn about God's judgment during the Flood. All trips include daily hikes to explore side canyons, great food, fellowship, and teaching.
You'll also hitch a ride with a well-known creation researcher or enthusiast such as Dr. Andrew A. Snelling, Dr. Jason Lisle, or Dr. John Whitmore. So, you'll get the best of both worlds: learning how science confirms the Bible and seeing it firsthand.
For the 2012 season, Tom's ministry, Canyon Ministries, and Answers in Genesis are teaming up to offer a choice of four trips from April through August. The trips range from a four-day adventure to a nine-day expedition, and each is packed with incredible sights. (If those won't work, Canyon Ministries also offers additional trips perfect to fill an open spot in your schedule.)
Get ready to cross several items off your bucket list as you splash down the river with an experienced guide, get close to evidence for the Flood, and enjoy beautiful, star-filled nights. You may even want to bring along a skeptical friend to learn about God's judgment and redemption.
You'll find much more about the trips on our Grand Canyon event page. Sign up, climb aboard, and get ready for adventure.
Five Amazing Years
Answers magazine began hitting mailboxes five years ago with some of the best articles about the Bible, science, faith, and apologetics. To celebrate, the newest issue gives you twice the content. Subscribe or send this special issue as a gift.
In Store: Answers at Warp Speed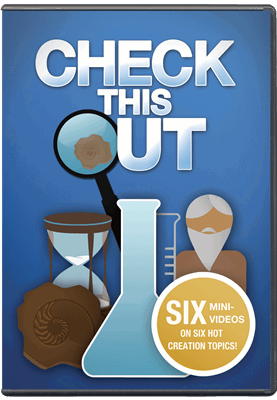 There's no one-size-fits-all way to present information. People have different reactions to different types of presentations. And that's definitely the case with how they process facts regarding the creation/evolution controversy.
Children and adults alike love to attend (or view on DVD) our popular seminars and conferences, and they can't get enough of the information once they start to see how it makes the Bible truly come to life. Still others prefer succinct summaries or articles. In fact, most of us go through phases depending on where we are in life.
That's where Check This Out comes in. With different learning styles in mind, Answers in Genesis teamed up with award-winning video producer "Bub" Kuns to create a DVD loaded with the fastest and most succinct presentations we've ever released. This single DVD covers six different topics and uses an extremely creative combination of animation, text, and humor—each squeezed into roughly three minutes of "warp speed" teaching.
The six mini-videos on this DVD address each subject with the latest information, making them perfect to show the family and an amazing way to spice up sermons, Sunday school lessons, small group studies, and more.
If you want to see a sample, strap on your seat belt and zip over to our online store.
Question of the Month
What's the vision behind the Ark Encounter themed attraction?
Our plans to build a full-sized version of Noah's Ark as the centerpiece for an exciting attraction in northern Kentucky have created quite a stir in the media all over the world. And we're certainly grateful for the attention.
However, news coverage can sometimes miss the mark in explaining why we're building something so unique. Often, in fact, the stories can denigrate without investigating.
To clear up a few misconceptions, we've recently updated the Ark Encounter website with some new features. You'll immediately notice that the front page has been changed to include an interactive park map where you can click an attraction to learn more. If you select any "hot spot" on the map, you'll have the option to read the vision statement behind this enormous project.
This vision statement spells out our intentions, the history behind the project, the need for such an endeavor, and more. Take a look at the updated site, and if you want to help make this vision a reality, consider pitching in with a peg, plank, or beam.
(Have a question for InSite? Let us know! Be sure to mention that your question is intended for InSite.)
Did You Know?
Did you know that Ken Ham's blog, Around the World with Ken Ham, continues to garner plenty of pageviews? In fact, two posts in particular have proven quite popular so far this year. They also happen to be two that deal with the important topic of theistic evolution and what the group BioLogos really teaches about the Bible:
If you haven't read them yet, be sure to do so. You won't believe what this group teaches.
About InSite