New Site: Help for the Great College Hunt
When you walk through the doors of a Christian college, you probably expect a few things. For example, you might think you'll find professors who cultivate faith and administrators who believe what the Bible teaches.
But as the careful research in the illusion-shattering book Already Compromised reveals, this is usually not the case.
So, how do you pick a Christian institution of higher learning that truly lives up to its name? After all, their websites claim a "Christian worldview," their brochures boast of "faith-filled instructors," and their student tour guides pour out a script full of Christian-sounding terminology. But, as America's Research Group discovered, this is something of a façade, hiding the compromise that lurks in the classrooms.
Your best bet? Doing your homework. And Answers in Genesis wants to help you get started with a brand new web tool called CreationColleges.com.
Conceived as a web supplement to Already Compromised, CreationColleges.com provides tools to help you in your college search. In particular, the site features a list of Christian colleges, seminaries, Bible institutes, and other institutions of higher learning whose presidents have agreed to the Answers in Genesis statement of faith (and, really, AiG simply affirms that what the Bible says is what it means). The interactive front-page map allows you to find exactly what you're looking for, where you're looking for it.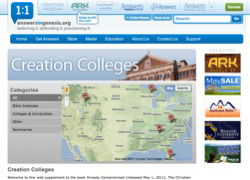 The site already features such institutions as Warner University (Florida) and Bob Jones University (South Carolina), and we're busy working with other colleges to add more as quickly as possible. In fact, we expect dozens of colleges to take a stand for the truth of the Bible as the results presented in Already Compromised begin to make an impact.
The site also makes it easy for you to request information from the college or colleges of your choice. Simply fill out the form and submit it, and they'll take care of the rest. We'll also provide you with some questions to ask professors and administrators to check the colleges for yourself.
We hope CreationColleges.com becomes your first stop for discovering a college or seminary that's right for you. And, as always, keep reading InSite for new features and updates.
Go for the Gold
If you're looking for help to make 2011 your best vacation Bible school program ever, check out AnswersVBS.com. There you'll find tips and ideas from Answers in Genesis to give your summer event a golden shimmer.
In Store: Can't-Miss Evidence for Design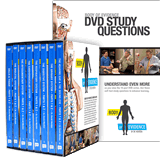 When we think of evidence for design in the universe, we often imagine distant locales: the moon, the sun, and the rest of the solar system, for example. But we don't need to go nearly so far to find such evidence. In fact, just look down—at your own body.
For years, Dr. David Menton has been traveling the country, showing people how amazingly designed the human body is. And before that, he did so as an award-winning professor at Washington University School of Medicine (St. Louis). With his engaging and humorous style, he's captivated audiences and students with a detailed examination of the amazing creation we often take for granted.
Now he'd like to share his years of study with you—wherever you are.
In the new video series Body of Evidence, Dr. Menton takes two teens (and you) on a teaching tour through the major systems of the body. Each stop in this sixteen-part (8-DVD) series adds layer upon layer of evidence for a wise Creator. Using anatomical props, models, and microscopic images, Dr. Menton teaches his way through the human body—from cells and tissues to the cardiovascular system to our ears and eyes.
For homeschoolers and teens, this series teaches important anatomy lessons from a bliblical starting point—and there's an included book of self-guided questions for further review. But the talks are designed for anyone interested in how the human body works, thanks to Dr. Menton's easy-to-follow illustrations. The set is also a great outreach tool to even hardened skeptics. After all, the proof is right in front of them.
So, there's no need to travel to find evidence of a created universe. Pop in the Body of Evidence DVDs and see it right where you are.
Question of the Month
Can you email your Biblical Authority Devotionals to me each day?
If you're not familiar with them, our Biblical Authority Devotional appear each weekday on the front page of our site—and have for about a year now. Each one helps you dive into the big questions of Scripture. Consider it your daily dose of spiritual insight.
While the devotionals are easy to find on our site, that doesn't mean it's the best way for you to access them. If you're on the go in the mornings, perhaps you prefer to have content delivered straight to your inbox to check on your computer or smart phone.
If that's you, then you'll be glad to know that we've now added a way to do just that. At the bottom of each devotional, you'll find a link to subscribe by email. Click the link, type in your email address and the text that appears, and then click "Subscribe." You'll receive an email asking you to verify your subscription. All you have to do is click the link in that email. That's it.
If your workflow changes or you prefer to read them on our site again, each email contains an easy unsubscribe link. And just so you know, your email address will only be used to send you the devotional.
Update:
Having reached the end of this series, we are excited offer 366 devotionals, one for every day of the year—plus one for leap years. We encourage you to
check out our devotionals
.
(Have a question for InSite? Let us know! Be sure to mention that your question is intended for InSite.)
Did You Know?
Did you know that three of our top five most popular web articles are from the free online version of The New Answers Book 1? Here's a look:
Why not share one or two of these on your website or Facebook page? Plenty of people are asking.
About InSite