Adding a New Title
She's a well respected researcher, a much-sought-after speaker, and a champion of God's Word. And you can now add accomplished blogger to that list.
Dr. Georgia Purdom (PhD in molecular genetics) has been posting her thoughts and ideas for several months now, and if you haven't kept up, you've been missing a number of great articles on science, Scripture, parenting, and more. Here are just a few of the highlights:
I'm excited to share with women biblical truths about parenting and some very practical ways we can establish the Bible's authority in the lives of our families and children. However, in my preparation, I've also come across some chilling information in regards to the government's intervention in parenting.... [from "Parenting and the Government"]

The science that gives me hearing in the form of a cochlear implant is observational or operational science. I call it the "here and now" science (no pun intended!). It's the kind of science I did in the lab every day as a graduate student. This type of science gives us airplanes, MRIs, computers, cochlear implants, and cars. It is observable, testable, repeatable, and falsifiable. It has absolutely nothing to do with evolution.... [from "Evolution and My Cochlear Implant"]

A good friend of mine recently discovered that her son has a genetic disorder called Williams syndrome. It affects him physically, developmentally, and mentally. Her life and that of her family will never be "normal." She has struggled as we all do with reconciling the painful effects of sin with God's sovereignty. . . . [from "Genetic Mutations and God's Sovereignty"]
Check out Dr. Purdom's blog for frequent updates that discuss a number of important issues. You can also follow her travels and thoughts on both Twitter and Facebook.
In Store: Award-Winning Videos Put a Damper on Darwin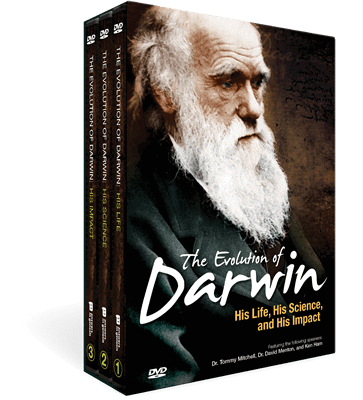 Last year, the so-called "Year of Darwin" came in with a media frenzy. Seminars and movies and documentaries flooded universities and theaters and TV sets. However, Darwin seemed to fare poorly under this increased scrutiny, judging from the fizzle of this evolution onslaught, and we'd like to think that our truth-exposing—and now award-winning—DVD series, The Evolution of Darwin, had a small part to play in that (as well as our Darwin issue of Answers magazine, hard-hitting web articles, and Answers for Darwin conferences, of course).
In this series, three of the most popular creation speakers—Ken Ham, Dr. David Menton, and Dr. Tommy Mitchell—take a close look at Darwin's life, science, and impact. Each presents important, little-known information about Charles Darwin and his ideas that, in many ways, changed the world. This unique and well-illustrated series will equip every student, parent, and pastor who desires to be more effective in evangelizing and training the next generation. You'll learn about the events that shaped Darwin's outlook, the facts behind natural selection (and the exaggerations), and the terrible acts his writings have been used to justify.
The impact and artistry of these DVDs caught the attention of the International Christian Visual Media Association, which honored Answers in Genesis with two Gold Crown Awards for Best Series and Best Evangelistic Film.
While the "Year of Darwin" has come and gone, Darwin's sad legacy continues. Get equipped with The Evolution of Darwin series, and be ready to answer the questions of the world.
Question of the Month
Because I'm busy, I don't always have time to come to the site. What's an easy way to keep up?
Schedules fill up with a number of tasks. Days get busy with grocery runs, piano practice, small groups, and more. Sometimes it's tough to keep track of your favorite websites each day. And if that's you, not to worry—we can send our website to you every week.
For over a decade, Answers in Genesis has been sending weekly updates to on-the-go families and individuals. The look continues to "evolve," but the core purpose of our Answers Weekly email is still the same: to give you an easy-to-digest weekly update about the best of what's on our website.
Each week, you'll get a relevant question and answer selected from one of the main articles on our site. You'll also see what issues we've covered during the week, information about our free Video on Demand segment, a quick look at News to Note, a list of the recent Answers Radio episodes, a run-down of our After Eden weekly cartoon, job postings, best-selling resources, and more. All of this comes nicely organized for quick viewing. You can take a look at previous Answers Weekly emails to see what we mean.
If you're someone who prefers a succinct recap, Answers Weekly is the best way to get all our biblically based materials sent right to your inbox. As you might expect, signing up is quick too.
And, of course, you can have updates sent directly to your RSS feed reader (e.g., Google Reader) from our many feeds designed to suit your interests, such as our featured daily articles, our After Eden cartoons, our speaker blogs, and many more. To find out about these—and to find us on Facebook and Twitter—check out our Get Connected page.
(Have a question for InSite? Let us know! Be sure to mention that your question is intended for InSite.)
Did You Know?
Do you know what question remains one of our most popular year after year? If you guessed Cain's Wife—Who Was She? you're right. While other questions rise to the top in a given year, interest in Cain's wife never seems to fade away. Perhaps there are many people in your life who wonder about this as well. Why not share the answer with them?
About InSite