I am currently in Vancouver, Washington, for an AiG conference at Crossroads Community Church, and as part of this conference, we have brought our talented video crew out to video all the sessions I am presenting at over the three days.  The current video set with a series of presentations of mine was filmed a number of years ago—when I still had brown hair!  As more and more people have been asking me if it is my son in that series, we all determined it was time for me to be recorded on video for a news series, which will have me with gray hair!
Under the direction of our director of the Audio/Video (AV) division, Ben Wilt, our talented AV team organized for a special set to be built for this video shoot.  Here are some photos of the set and me speaking in front of the set!  All I could say when I saw the set was "wow!"

After arriving in Washington, we received news that AiG received three awards (including two gold) for our AV team's production of the Evolution of Darwin Series from the International Christian Visual Media Association 2010 Crown Awards!  Here is a list of the various awards that AiG received:
Best Curriculum
Silver Crown Award The New Answers DVD 1
Best Series
Gold Crown Award The Evolution of Darwin Series
Best Evangelistic Film
Gold Crown Award The Evolution of Darwin Series
We also found out the church we are holding the AiG conference in is using the AiG 2010 VBS, Egypt File.  I have included some photographs of some of their signage around the church (including one of Mally and me in front of a sign)—the mural is just spectacular:

Here is a photograph of the pastor, Bill Ritchie, and me at the church: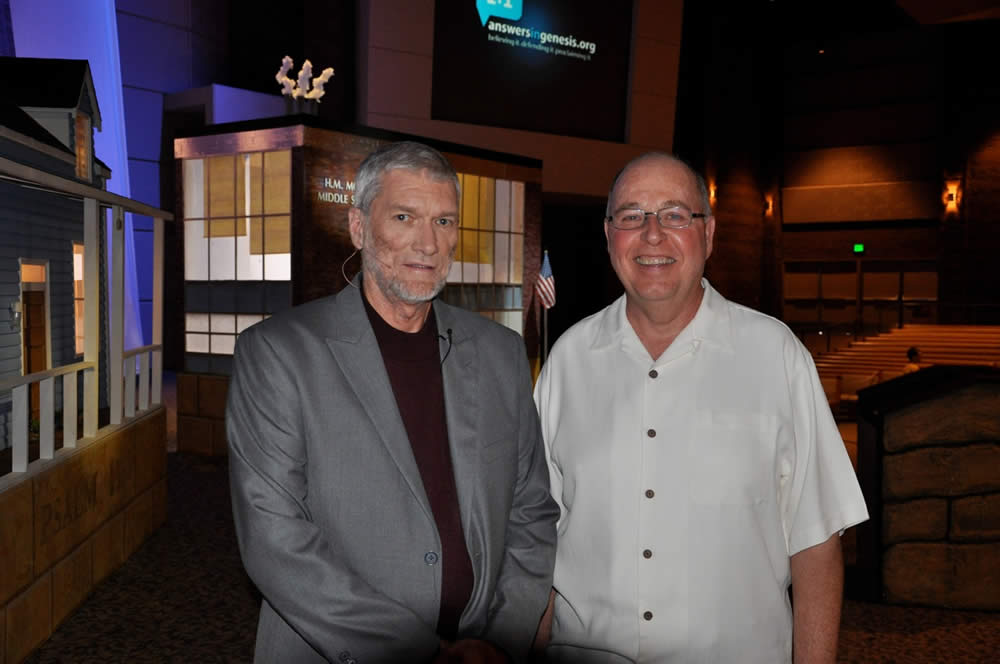 I spoke four times today, plus had a special meeting with a number of AiG supporters—a busy day!  Please pray for this video shoot.  We are trusting this will be another important teaching tool to equip people around the world.
Thanks for stopping by and thanks for praying,
Ken