Erosion Control
In 1999, the beach finally caught up with the Cape Hatteras Light on the North Carolina shoreline. Although the tower had stood as a beacon for over a hundred years, the waves had slowly eaten away at the coast, leaving the lighthouse susceptible to collapse. The only way to save it? Move the massive structure inch by inch, day by day, to a location nearly 3,000 feet inland.
In many ways, our spiritual lives are much like the Cape Hatteras Light. Our faith began as a blazing torch, but over time, worries about mortgages, disagreements with family members, and the day-to-day grind of this cursed earth can wear away at the excitement we once had.
Just as workers slowly shifted the massive tower, the rekindling and growth of our faith requires a daily commitment to reading—and living out—God's Word. We must continually read, study, and learn to apply Scripture in every circumstance. And we at Answers in Genesis want to help.
Perhaps you've noticed a small change on the front page of our site. Down below the Daily Articles in the center column, there's a new heading for "Biblical Authority Devotional." Serving as a supplement to the insightful new book by Steve Ham, In God We Trust, this new devotional serves as a type of "erosion control."
Each weekday, Steve Ham, Chris Russell, or another Answers in Genesis staff member will examine a big question in light of Scripture. Dive into rich topics such as why God's character is important, the depth of God's love, why holiness matters, and the richness of God's grace. The devotionals walk you through Scripture in a straightforward manner, perfect for a morning time of reflection and prayer.
The Bible is more than simply a book. Each page, each verse, contains truth to guide our lives. We hope you'll take a moment daily to examine the Word with us. Let us—together—stave off the constant waves that eat away at passion and, instead, continue to grow in our faith. If you've missed any of the devotionals, take a look through the archives now to get up to speed.
If you'd like even more daily nourishment, don't forget about the continuing daily sermon series from Charles Spurgeon. Larry and Marion Pierce have carefully updated these classic works to make them accessible to a new generation, and there are over 500 currently available.
Biblical authority (the primary message of Answers in Genesis) isn't just about creation and the age of the earth; it's also discipleship and growing in Christ. We hope these devotionals and sermons will help you as you move day by day toward the place being prepared for you.
Update: Having reached the end of this series, we are excited offer 366 devotionals, one for every day of the year—plus one for leap years. We encourage you to check out our devotionals.
In Store: Novel Disclosures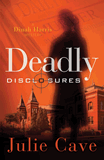 Everywhere we turn in today's culture, we are bombarded by the concepts of evolution and millions of years. The assault on biblical creation does not only come from nonfiction publications like National Geographic and Time magazine; evolution is also a prominent theme in many popular movies, TV shows, and novels.
Fiction is a powerful medium for conveying ideas, and many evolutionary authors use it extremely effectively. Fiction, after all, can have a powerful and subtle impact on worldviews.
Although the Answers in Genesis bookstore offers hundreds of quality resources on a myriad of topics related to biblical authority and the creation/evolution controversy, we have never carried novels—until now.
Through the genre of a thrilling, "nail-biting" mystery book, talented novelist Julie Cave has created a captivating story that will help fiction fans everywhere engage with the foundational importance of biblical authority—and its impact on the culture.
Deadly Disclosures follows FBI agent Dinah Harris on an intense, high-profile murder case centered on the creation/evolution controversy at the Smithsonian in Washington, D.C. Dinah faces tough questions throughout the story about the age of the earth, death and suffering, and the gospel—which is clearly and powerfully presented.
Whether you're an avid fiction reader or not, this thought-provoking mystery is definitely worth a read! Be sure to check out Deadly Disclosures.
Question of the Month
Where can I find the previous front-page features?
Over the years, Answers in Genesis has produced a number of talked-about features on the front page of our site (linked from the large banner at the top of our main page). These information-packed pages deal with "hot topics" and provide a succinct overview of an important aspect of biblical authority, science, and worldviews. Recently, for example, we looked at some of the best evidences for a young earth. We've also covered everything from Noah's Ark to global warming to dinosaurs.
When a new feature debuts, the previous one falls off the front page. However, it doesn't simply vanish from our site. We store them on our Features Archive page in the Get Answers section of the site.
So, if you're new to the site or want to dig up some of your favorites from the past, head over to the archive page and share some of them with friends and family.
And, of course, be sure to check back often for the next feature. You never know what we'll cover next.
(Have a question for InSite? Let us know! Be sure to mention that your question is intended for InSite.)
Did You Know?
Did you know that Steve Ham—Senior Director of Outreach at Answers in Genesis, speaker, and author of In God We Trust—is on Facebook? Follow along on his travels, read his insights, and check out the links he shares.
About InSite