I believe you'll be amazed, thrilled, and astounded—and will praise the Lord for what he is doing in this cutting-edge ministry. A hint: think Paddington Bear, giraffes, children, and a bathtub.
When the Creation Museum opened in 2007, hundreds of the world's secular and Christian media were present in the first few weeks. I recall some of the secular reporters being shocked (and some seemed even dismayed) by the quality and professionalism of the exhibits. A number of reporters actually referenced the world-class displays when they asked me questions.
I remember at least one disturbed reporter saying that the quality of the museum would cause visitors to take more notice of our exhibits and what they teach. In blogs and other articles, reporters actually bemoaned the quality of our museum exhibits.
One secular critic in 2014 stated, "It horrified me to give them a dime . . . the presentation is very high quality—the dioramas, displays, and animatronics are all top-notch."
A supporter on the TripAdvisor website wrote, "Very well done museum with loads of professionally done exhibits."
Over the years, many Christian leaders have told me that the quality of the Creation Museum and its exhibits has set a very high bar for the Christian world.
Over the years, many Christian leaders have told me that the quality of the Creation Museum and its exhibits has set a very high bar for the Christian world. Many reporters have told me that because the museum is a Christian facility, they expected it to be "cheesy"—they recognized that the Christian world is not known for having a Disney-like quality.
We've also had dozens of visits from Christian organizations who were (or are) building Christian facilities, and they tell us they hope to attain the same quality.
When the Ark Encounter opened in 2016, people weren't surprised at the level of excellence they experienced at the Ark, having seen what was done at the Creation Museum.
Many Christians told me it was so refreshing for them to visit Christian facilities of such high quality—particularly because we are so bold about biblical authority, the gospel, and a truly Christian worldview.
Getting the Word Out
Now, it's one thing to build such facilities, but people need to be informed they exist. World-class attractions like Disney and Universal Studios spend hundreds of millions of dollars in marketing and promotion. We, too, recognize that we need to do our best to market the Creation Museum and Ark so that people will know they exist, and then we need them to come and experience the proclamation of the truth of God's Word and the gospel in an engaging way!
Before the Creation Museum opened, the Lord led us to a marketing agency, Joseph David Advertising (JDA—www.jdaworldwide.com/). Its Christian ownership wanted to work with us to develop marketing ideas that would be equal to or better than what the secular world does.
Their experts have worked tirelessly with us to produce award-winning billboards, television advertisements, and other marketing tools.
Over the years, their experts have worked tirelessly with us to produce award-winning billboards, television advertisements, and other marketing tools. Many people have commented on how professional this marketing effort has been and how it really captured their attention. Many of you may have seen our ads on the Fox News Channel and many other networks.
We have also conducted a lot of market research through JDA to find out how we can best reach those likely to visit the Creation Museum and Ark. Through the help of JDA's creativity and resources, we have been able to market our attractions in powerful and effective ways.
Children Free!
A few months ago, we met with JDA's marketing team and discussed how we were going to market the Ark and Creation Museum for 2020. We also discussed the incredible war against children that is happening in our culture in regard to abortion, forcing the LGBTQ worldview on kids in schools, the war on the family, increasing talk about allowing pedophilia, and so on.
What's happening is so evil. It motivated us to come up with a plan to help reach more kids by allowing all children 10 years old and under into our attractions for free. Yes, that offer began January 1, 2020. We've actually restructured the ticket pricing.
Our marketing agents then came up with an idea that we thought was beyond our reach financially. But they worked out a way for this to happen—so remarkable!
You may have seen the family movie featuring the character Paddington Bear. Now, while this bear is an animated creature, the animation is done so well that it looks real as the bear interacts in the real world with real people!
The Mascots
Then we asked ourselves, "What animal is most associated with the Ark?" And of course, it was the giraffe! That's because most modern depictions of Noah's Ark in children's books (not those from AiG, of course!) have Noah's Ark pictured as a sort of overloaded bathtub with giraffes sticking their necks out the top!
Put all this together for a 30-second television advertisement with the same quality as the Paddington movie, but with giraffes—four of them: mom, dad, and the two kids—plus a bathtub ark and a visit to our true-to-the-Bible Ark, while promoting that kids go free. Combine that with a quaint story line, and there you have it: an extremely high quality, captivating, and stunning television ad that will market the Ark Encounter and free admission for children in 2020. (This campaign also applies to the Creation Museum with children going free.)
What Mickey Mouse and other characters are to Disney, these giraffes (named George, Gloria, Gracie, and Junior) will be to the Ark Encounter. I believe kids will fall in love with the giraffe kids, Gracie and Junior.
When I saw the first draft of this TV ad, I immediately thought of Super Bowl quality. In fact, I think it is better than many Super Bowl ads I've seen. Personally, I think the ad would win an award if played during the Super Bowl! But for $5.6 million dollars to run just one 30-second Super Bowl commercial, we certainly couldn't do that. But this high-quality TV ad will be shown on many channels and across our social media.
You'll see George, Gloria, Gracie, and Junior popping up in all sorts of places.
Over time, we will develop more ads using these characters along with some short, fun teaching videos . . . and maybe even a movie one day! And of course, people will be able to purchase these giraffe characters as plush toys and other items at the Ark. You'll see George, Gloria, Gracie, and Junior popping up in all sorts of places. Kids and adults will just love them!
A Tall Order
Let me give you some background on who produced these giraffe characters and the animated advertisement. It has been a very complex operation.
JDA partnered with several Hollywood studios to create the giraffe characters we'll all see on TV soon. These specialized studios are the same as those behind the animation in films like The Avengers, Wonder Woman, and Mary Poppins, and also popular TV shows like Star Trek and Agents of S.H.I.E.L.D. In fact, the VFX supervisor hired to produce our characters was the former Pixar supervisor who oversaw the creation of the character Jessie in Toy Story 2.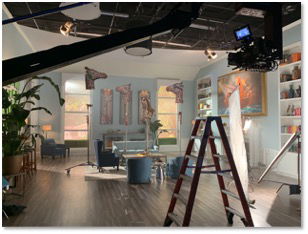 Since the TV commercial was shot in the same live-action style as Paddington (i.e., "animation over film"), JDA partnered with Whitestone Motion Pictures from Atlanta to build a custom set (see at right) and film the giraffe family in their living room. As complicated as the animation was to create, plus shooting blank frames 18 feet in the air in a custom-built 25-foot-tall living room designed for giraffes, it was nothing short of spectacular.
All in all, the talent JDA was able to bring to the table on our ministry's behalf was outstanding. I think you'll agree once you see the spot!
By the way, as you watch this extraordinary 30-second marketing piece (share the easy-to-remember URL: ArkEncounter.com/junior), look for all sorts of subtle things that the producers included and went to great lengths to ensure every detail was meticulously thought through. For example, the newspaper you can see has actual articles about our giraffe family. Look for other details that you will probably miss at first glance.
JDA does not believe a Christian organization has ever produced a marketing piece like this. It truly is taking our marketing to a whole new level of excellence. Yes, Answers in Genesis has done it again! We're thinking outside the box and forging a way to produce something unique that's stunning and world class for the sake of proclaiming God's Word and the gospel.
The world is using its best tools to market anti-Christian worldviews/lifestyles to kids. We need to use the best to promote the truth to them!
How many ministries are prepared to step it up and compete with Disney in quality for the hearts and minds of the next generation? The world is using its best tools to market anti-Christian worldviews/lifestyles to kids. We need to use the best to promote the truth to them!
We do have very limited dollars to use for marketing compared to what the secular world can spend. But I do praise the Lord for how our marketing agents have been able to forge a way forward for all this to happen. It's truly miraculous.
Think Bigger Steps
In many ways, this has been a big step of faith for us. I praise the Lord for the AiG board and leadership who are visionaries and are prepared to push the edge in many ways so this campaign could happen. And it's also a step of faith to allow all children 10 and under to visit our attractions for free. We want to help families, churches, and organizations bring more children to Northern Kentucky so they can learn the truth of God's Word and the gospel.
Also, during 2020 we will be adding a number of workshop rooms and a lab to the lower level of the Answers Center at the Ark Encounter, courtesy of some generous families, so we can teach more biblical truths to children through our very popular workshop and lab programs.
We will also be opening a powerful new pro-life exhibit at the Creation Museum in the summer of 2020. We have already totally refurbished one third of the Creation Museum with new exhibits (they opened in November) that take the museum to a whole new level of excellence. Our planetarium at the museum is also being upgraded, featuring an all-new spectacular laser system (to open in the spring). These have been funded through donations.
Now, it is true we charge admission for those over the age of 10 to visit our attractions—but revenue from ticket prices only covers day-to-day operating costs for the facilities. Producing new exhibits and conducting various outreaches require generous giving from God's people.
With your vital prayers and support, this apologetics ministry is able to battle for the minds of the next generation with excellence and, most importantly, with truth. Thank you for partnering with us in a critical mission of proclaiming biblical authority and the gospel!