Last weekend, the ministry finished a very successful series of meetings in Georgia. We had the honor of presenting the Sunday morning message for five consecutive weeks at Maysville Baptist Church. The responses we received have been tremendous.
I did the opening session five weeks ago, and last Sunday I did the closing presentation. Many people told me that they were planning a trip to the Creation Museum as a result of the conference. In fact, the pastor of the church visited the museum along with his family 10 days ago. He said that he was blown away by what he saw.
On Sunday night I spoke to a group at Pleasant Hill Baptist Church in Gainesville, Georgia. I spoke on how a loving God could allow death and suffering. The church staff was so excited that they said they wanted to look into having a full Answers in Genesis conference at their church. Here is a photo from Pleasant Hill.
Also during this visit, I was able to speak to students and parents at Living Science Home Studies. We had three sessions and then a time of Q&A. These students were very excited about the AiG message, and many of them came to me afterward and said that they would be much better able to defend what they believe as a result of our meeting. Here is a photo from Living Science.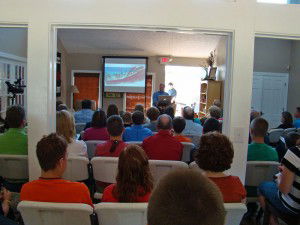 Next week, I'm back home in Tennessee. I'll be speaking at First Baptist Church in Tullahoma.
Keep on praying!