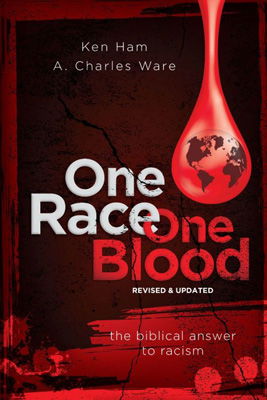 This book deals with the well-documented evolutionary origins of the rise of modern-day racism. It shows how these dangerous ideas infected society and created a false dichotomy of "us vs. them"—one race versus another.
But that's not how the Bible talks about race at all! In a biblical view, we're all one race. We've all descended from Adam and Eve, and therefore all of us are part of one biological race, the human race. And, because we've all descended from Adam, we're all sinners in need of a Savior. And that Savior is the Lord Jesus Christ, the Last Adam and our relative, who died in our place on the cross and now offers the free gift of eternal life to all who will repent and believe.
And modern science, specifically the field of genetics, has shown the old evolutionary view of multiple races to be wrong and the biblical view of one race to be correct. Science always confirms the Bible, including when it talks about the human race.
This book goes into detail about the origins of racism, the biblical answer to racism (spoiler: the solution is a biblical worldview and the gospel of Jesus Christ!), why we look a little different from one another, why we're really not "black and white," and how we can effectively combat racism/prejudice today. Dr. Charles Ware, who frequently speaks on "Grace Relations"—instead of "race relations"—co-authored this book with me, and I believe you will find it very powerful. It's unique in the world.
You can find One Race, One Blood on our online store.
A DVD version of my part of this book, given as a talk at our ReEngage conference in Australia, is also available. It's a wonderful companion video to the book.
One Race, One Blood Conference
Dr. Charles Ware and I, along with Johnny Hunt, Dr. Voddie Bauchum, and others, will be speaking at the Ark Encounter's Answers Center October 8–10, 2019, for our fall pastors and Christian leaders conference. This conference, One Race, One Blood: Biblical and Scientific Answers, is open to anyone, and together we will dive deep into the issue of race and racism and how we, as a church, can respond biblically. I encourage you to bring your teens (and even 10-year-olds and upwards). It's sure to be an incredible time, and we hope to see many pastors, leaders, parents, college students, high schoolers, etc., there. The Ark and its new Answers Center are south of Cincinnati.
Register today on the events page of our website.
Equip Your Children to Think Biblically
And equip your children to think biblically about this issue with my kids' book, One Blood for Kids: What the Bible Says About Race. This book will help children build a biblical worldview, opening their eyes to the reality that everyone is our relative, and that all need the life-changing message of the gospel. This is such a vital message for our young people to hear and understand!
Find this resource, and so many others, at AnswersBookstore.com.
Thanks for stopping by and thanks for praying,
Ken
This item was written with the assistance of AiG's research team.