This short film follows Shem's wife as she writes down her memories of the evils of the pre-flood world and her time on the ark, and her perspective on the new world they're now living in. New Beginning really brings the account of the flood to life and offers a fresh and thoughtful perspective I believe you will enjoy.
You can watch the trailer of this film below:
New Beginning was largely an in-house project, with many of the characters—including the lead—being played by Answers in Genesis' employees in departments as diverse as international outreach, IT, fabrication, Answers magazine, and more. They did a phenomenal job, and we're thankful for their hard work and dedication to this project.
The set, costume, and prop designs were also done by the talented team in our design studios. Unbelievably, the pre-flood world set was constructed almost entirely of cardboard and foam, but you'd never know it by looking at it! The ark scenes, along with the pre-flood world sequences, were also filmed in our design studio on a specially built set that could actually rock and move. The outdoor scenes were filmed at a beautiful location in Washington state.
These three videos will give you a fascinating look behind the scenes at just some of what it took to bring this film, and the vision behind it, to life.
Eventually, a longer version of this intriguing film will be played for guests to enjoy at the Answers Center, our state-of-the-art, 2,500-seat multi-purpose auditorium under construction at the Ark Encounter.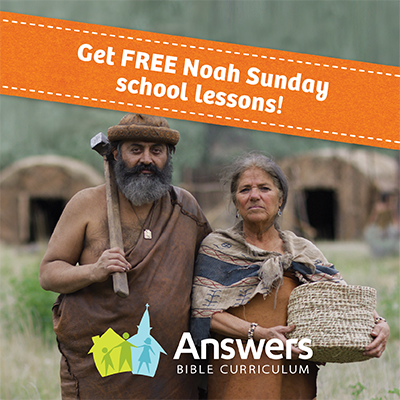 Give our Answers Bible Curriculum a try with our free lessons!
As part of our introduction of New Beginning, we're offering churches and individuals a free digital download of our flood lessons from the Answers Bible Curriculum, our Sunday school curriculum (along with posters and other items). We hope this video encourages viewers to want to learn more about the account of God's judgment, mercy, and salvation found in the early chapters of Genesis. The free download is available across all age groups (pre-K through adult) and is sure to bring the flood account to life for your Sunday school or Bible study class.
You can learn more, and enjoy your free download, at AnswersBibleCurriculum.com. And you can also discover more about the ark and flood by visiting our full-size Ark in Northern Kentucky. Plan your visit at ArkEncounter.com.
Thanks for stopping by and thanks for praying,
Ken
This item was written with the assistance of AiG's research team.