If you follow my blog, you're likely familiar with our main website, AnswersinGenesis.org. This website hosts thousands of faith-building articles, free online videos, and even some free online books. You can also listen to my radio program, Answers with Ken Ham; follow the Ark Encounter, Creation Museum, and other speaker blogs; see upcoming events; and much more.
We also have Kids Answers, a site that features articles, games and activities, videos, and more. It's an excellent resource to help you equip your kids to think biblically and have answers for the skeptical questions of our day. There's even a "Kids Mode," so your kids can browse without accidentally wandering off that area of our website.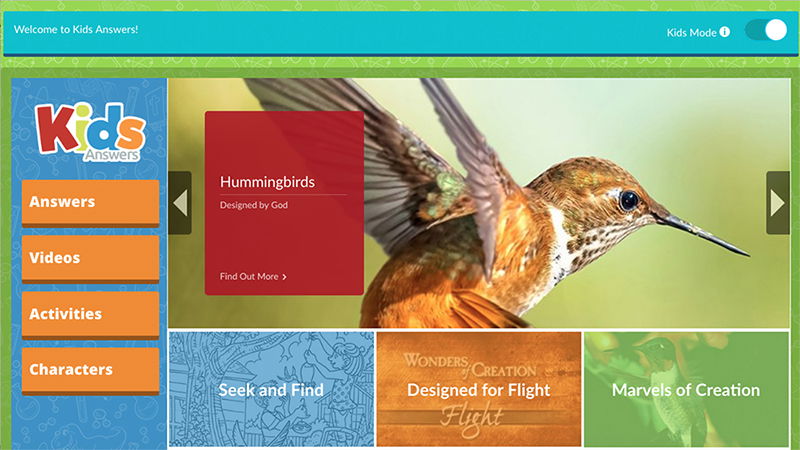 And did you know we have a twice-weekly news program? Answers News goes live every Monday and Thursday at 2 p.m. ET on my Facebook page and the Answers in Genesis Facebook page, as well as the Answers in Genesis YouTube channel. Answers News generally features me, Dr. Georgia Purdom, and Bodie Hodge (and one of our other speakers/researchers if one of us is away), as we discuss a wide variety of science and culture news items from a biblical worldview perspective. This free resource has been very encouraging to thousands of believers who tune in for a biblical perspective on the news they can't find on Fox News, CNN, or any other secular news channel!
No more waiting for items to arrive or paying shipping fees with eBooks and video downloads. On our online store, we have dozens of eBook titles and video downloads to choose from so that you can start learning in just a few minutes—no wait required. Check out the selection at AnswersBookstore.com.
These self-paced courses are a great way to equip you or your teenage children.
The last resource I will highlight are our unique and powerful online courses. All four self-paced apologetics courses are designed to provide you with a biblical/scientific foundation so that you can share the message of biblical authority and the gospel boldly with others, having answers to their questions and pointing them to hope in Jesus. These self-paced courses are a great way to equip you or your teenage children.
I hope you can take advantage of some, or all, of these online resources and share them with family and friends. We want as many people as possible to become equipped with answers or to be challenged to trust God's Word and the life-saving gospel message.
Thanks for stopping by and thanks for praying,
Ken
This item was written with the assistance of AiG's research team.