Tim Chaffey, the content manager for our attractions division, is our resident expert on the Resurrection. His passion for defending the historicity of Christ's death and Resurrection is contagious—you can't help but get excited when you listen to him discuss this momentous historical event. In fact, we're excited to offer two resources featuring Tim to help equip you with "Easter answers."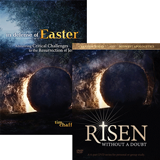 Risen Easter Pack. This pack features Tim Chaffey's book In Defense of Easter, an exciting book that will help you discover the history behind the Resurrection and why this event is the anchor of our hope. Also included is Risen: Without a Doubt, a six-DVD series hosted by Creation Today's Eric Hovind and featuring Tim. Together they explore Christ's death and Resurrection. This DVD series makes a great small group, family, or Bible study.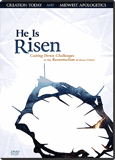 He Is Risen. Jesus' Resurrection has been called the best-attested event of the ancient world. Find out why in this DVD from Creation Today and Midwest Apologetics, featuring Tim Chaffey.
Free Easter Resources
And if you want to help reach others with the good news of Christ this Easter, I encourage you to take a look at our Easter outreach booklets. They are available as a free digital download for you to print and share with others.
We're also featuring our Easter Sunday school lessons from Answers Bible Curriculum for free. These lessons will help your students focus on the real meaning of Easter and understand why Jesus suffered and died on the Cross—and why his Resurrection is vital to the gospel. I encourage you to download these free resources for your church's Sunday school classes or for home Bible study with your children.
Tim Chaffey has also written several articles about Christ's death and Resurrection that I encourage you to check out on our website:
Praise the Lord that he conquered sin and the grave, so those who receive his free gift of salvation will have eternal life with him. That's a message worth sharing and celebrating all year!
Thanks for stopping by and thanks for praying,
Ken
This item was written with the assistance of AiG's research team.