From December 8–23, 2017 and December 26–January 15, 2018, we're having our first annual ChristmasTime at the Ark Encounter. The feature presentation for this family-friendly event will be a stunning laser video projection show on the side of the Ark—you won't want to miss this one-of-a-kind Christmas display. The grounds will also be decked out in lights, Emzara's Restaurant will have a special Christmas buffet alongside other delicious food and beverage options, our extensive fair-trade markets will be open for Christmas shopping, there'll be concerts, and our goats in the petting zoo will even be wearing Christmas sweaters!
Each year we also have our popular ChristmasTown at the Creation Museum, taking place this year on December 8–23 and again December 26–30, 2017. Our botanical gardens turn into a garden of lights—and we're told it's one of the best light displays in the entire region. We also have a live nativity, petting zoo, special food and drinks, various actors in period costumes, and more. And tickets to the Creation Museum are only $15 after 5 p.m. Each year more and more people attend as families make ChristmasTown part of their annual Christmas tradition.
Both of these events are free with paid parking (admission to tour the inside of the life-size Ark and the walk-through portion of the Creation Museum is not included). This is a great opportunity for you to load up your car and bring unsaved family and friends for a Christmas outreach. Did you know that our attractions are within a one-day drive of almost two-thirds of the US population?
We hope you can join us at the Ark Encounter and Creation Museum as we celebrate our Savior's birth and reach out to others with the good news of Jesus Christ.
Christmas Cards and Ornaments
Bring the holiday cheer home with our brand-new, die-cut Christmas cards and ornaments. These creation Christmas cards feature uniquely beautiful artwork from our new Christ, Cross, Consummation exhibit, a Scripture verse, and a gospel presentation on the back of each card. These cards are a great way to share the gospel with friends, family, and coworkers. You can order your Christmas cards from our online store.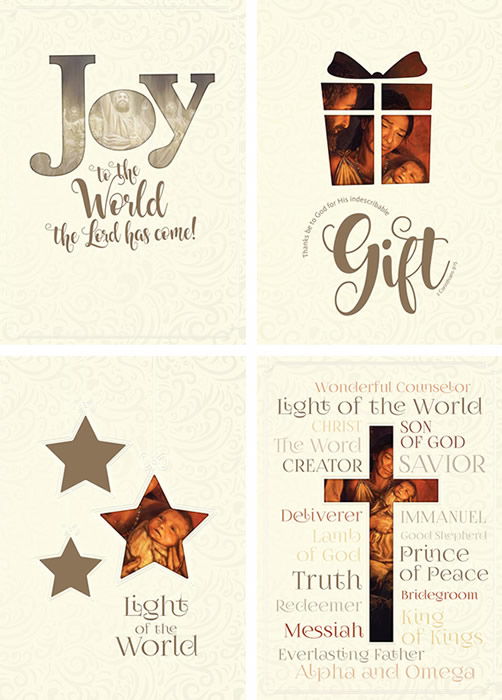 You can turn your Christmas tree into a gospel conversation starter with hand-painted Christmas ornaments, featuring the Ark Encounter or Creation Museum. These beautiful balls were painted using a centuries-old technique of painting inside the glass, and no two are exactly alike. These ornaments are a great way to start conversations about the Ark, the truth of creation, and the gospel. Get yours soon: some of the designs have already sold out!
Also, our beautiful 2018 calendar features a Faith Like Noah theme this year. Throughout the calendar, Scripture verses about our Christian faith are accompanied by beautiful scenes from God's creation. This 14-month calendar could be a great conversation starter in the office.
You can browse our entire selection of Christmas ornaments, cards, and more at AnswersInGenesis.org/store/christmas/.
Thanks for stopping by and thanks for praying,
Ken
This item was written with the assistance of AiG's research team.