Here's a sneak peek at some of what you can expect in the November issue.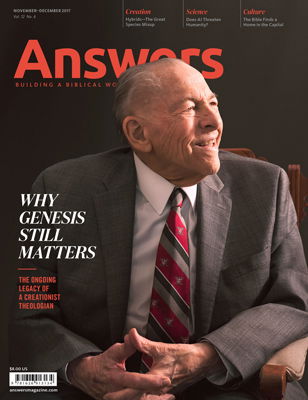 Discover how hybrids such as zonkeys, ligers, and wholphins are shaking up the evolutionary tree of life—and confirming the biblical view of speciation.

Gene editing is a growing ethical concern—how should Christians respond?

Find out why we can see distant stars in a young universe.

See how the supposed Oort cloud reveals the insidious drift of secular science.

Learn more about the Museum of the Bible in Washington, DC, opening later this month.

Read about the remarkable communication skills of orcas.
Get equipped to discuss these issues (and many more!) from the perspective of God's Word.
Included with each issue is a mini-magazine just for kids. In this issue, children will learn about the many different "-ologies" of science and the tools scientists use to explore creation and discover more about what God has made.
I encourage you to subscribe today to receive this powerful family magazine. When you subscribe, you also receive a free video download (a $9.99 value). Get the world's leading creation-apologetics, Christian-worldview publication.
Learn more at AnswersMagazine.com.
Thanks for stopping by and thanks for praying,
Ken
This item was written with the assistance of AiG's research team.