This program is reportedly very popular with nearly every student attending the voluntary elective. The community helps raise nearly half a million dollars a year to ensure the program continues. However, this lawsuit argues the Bible class "advances and endorses one religion, improperly entangles public schools in religious affairs, and violates the personal consciences of nonreligious and non-Christian parents and students" and that the program "is unconstitutional at its core and cannot be saved via modifications."
The FFRF argues that this kindergarten student "may be 'ostracized' for opting out of the Bible classes" and that one student who did not attend the elective had already been bullied. Of course bullying is wrong and is just one example of the sinful nature of mankind. But it is not a valid reason for cancelling a class. If school activities were cancelled because of bullying, physical education, lunch, and other activities would need to end. If the bullying really is an issue, then appropriate disciplinary measures should be taken regarding the offending students.
However, the attorney with First Liberty Institute, which is representing the school, said,
There are two things to look at. . . . The first is whether you can have a Bible course at all. And the other is whether you can have the Bible course as it is presently constituted. It's fair to say that we're very confident on the first issue. And on the second issue . . . our client is very, very flexible in terms of making sure that the content is in compliance with the law.
Why does FFRF really want to rid schools of elective, voluntary Bible classes? Because its leadership hates Christianity! They are in rebellion against God and don't want anyone to hear His Word. They aren't content with having their religion of atheism taught as fact to millions of students in government schools across America—and using taxpayer money to do it. They also want to ensure that no student is exposed to alternative views, especially Christianity and the Bible.
We need to pray that the FFRF does not win this lawsuit and that the students who wish to have the freedom to learn about the Bible in class can continue to do so.
FFRF is the same group, by the way, that produced an anti-Ark Encounter video for a membership drive to benefit its atheist activism. The video was filled with outright lies and misinformation about our life-size Ark in Northern Kentucky. FFRF called the project "Help us sink this Ark."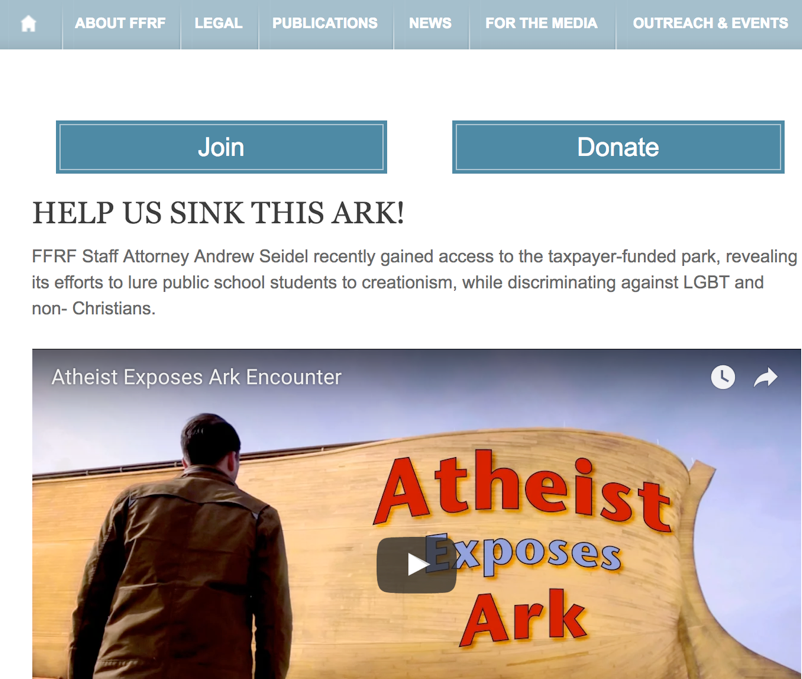 The Ark is a privately funded facility—but the FFRF wants it gone. Why? Because it proclaims a Christian message. For the FFRF, the Bible in Schools program ultimately has nothing to do with opposing this noncompulsory Bible elective, but everything to do with their anti-Christian, atheistic intolerance of anyone and any public school that lets people hear what the Bible teaches.
Thanks for stopping by and thanks for praying,
Ken
This item was written with the assistance of AiG's research team.