Francis Weaver of the Dayton, Ohio, area, visited us with his son and daughter-in-law recently. One of our staff members noticed that Mr. Weaver was wearing a World War II cap, indicating that he had served during the war. That information was quickly shared with AiG's CCO, Mark Looy, who is an avid student of history. (In fact, when Mark visited Europe last January with his wife and son, they made sure to tour some famous sites related to WWI and WWII, including the famous D-Day beaches in Normandy, France.)
Mr. Weaver told Mark that on June 6, 1944, he landed on what was called Utah Beach in Normandy (northern France) as a part of the D-Day invasion. The beach is rather wide in that part of Normandy, so it was easy for the Nazi troops on the cliffs above to fire down on the Allied troops that were landing. The troops tried to get to the cliffs for cover as quickly as possible. It was something like a shooting gallery.
Even though many around him were killed or wounded, praise God, Francis survived that momentous day. It was one of the greatest days in history because it signaled that the liberation of Europe had begun.
Later, Mr. Weaver had more harrowing experiences as the war was running down. He served in the famous Battle of the Bulge in the winter of 1944 and 1945 in Belgium. He experienced not only a lot of fighting but also frost bite—even today, he still experiences circulation problems, and some days he still needs to wear gloves to keep his fingers warm. Interestingly, Mark shared with Mr. Weaver that Dr. John Whitcomb, the cofounder of the modern creationist movement (and coauthor of the famous book The Genesis Flood), also got frost bite when he served in the Battle of the Bulge and today experiences similar circulation problems.
If that's not enough, as the war was ending in May 1945, Mr. Weaver also helped liberate the concentration camp of Buchenwald in Germany (not as deadly as the extermination camps the Nazis set up, but still horrendous since tens of thousands died at Buchenwald).
Mark shared with Mr. Weaver that perhaps the most patriotic place for any American to visit is Normandy, especially if they walk through the huge graveyard with thousands of white crosses marking the final resting place of so many American soldiers. Because these brave men died for freedom, this large cemetery in France—land given by France for America to oversee—is even more poignant than places like Arlington Cemetery near Washington, DC.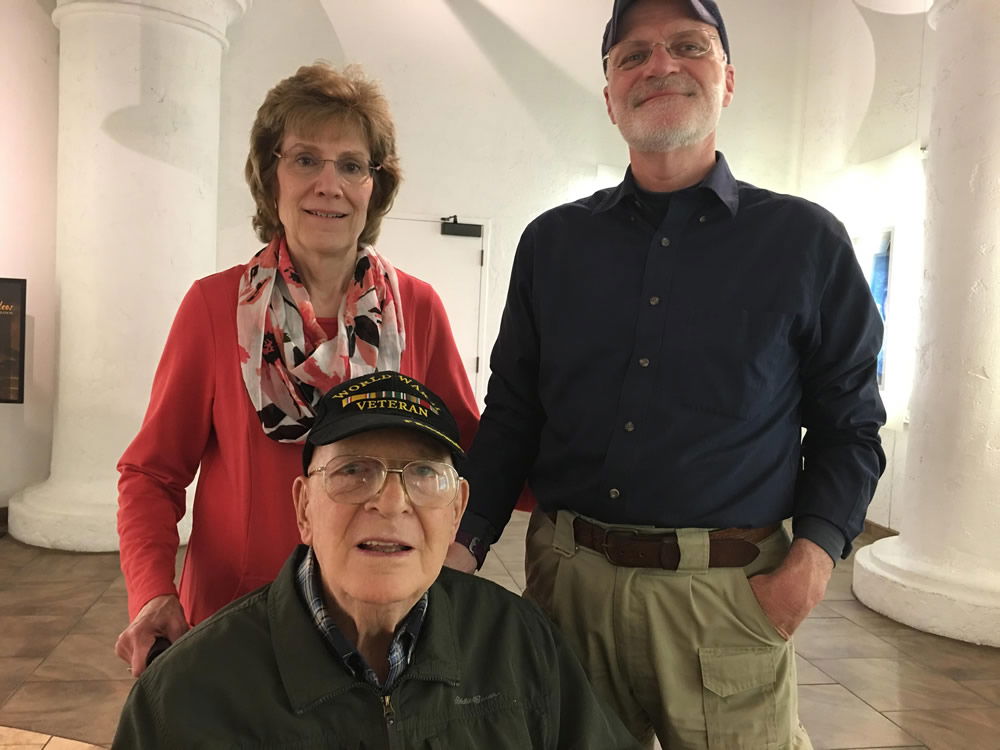 Some of the horrific scenes of the D-Day invasion have been depicted in famous movies such as Saving Private Ryan and The Longest Day. The Americans who fought in France and throughout Europe have been dubbed The Greatest Generation. Most of them have already passed or are in their 90s today.
On the same trip in January, Mark's son visited one of the infamous Nazi extermination camps: Auschwitz in Poland. It's where huge numbers of Jews (and other people groups) were murdered. Buchenwald and Auschwitz are reminders to all of us of sinful man's capacity for evil and barbarism.
Last week we welcomed another World War II veteran to the Creation Museum and the Ark Encounter—see "A WWII Vet and Other Special Visitors at the Museum." The variety of guests we welcome to our attractions is remarkable.
Thank you, Mr. Weaver, for your service. You are a real hero in the biggest sense of the word. More important, you are a Christian hero.
Thanks for stopping by and thanks for praying,
Ken
This item was written with the assistance of AiG's research team.