So what did Sarah see for the future?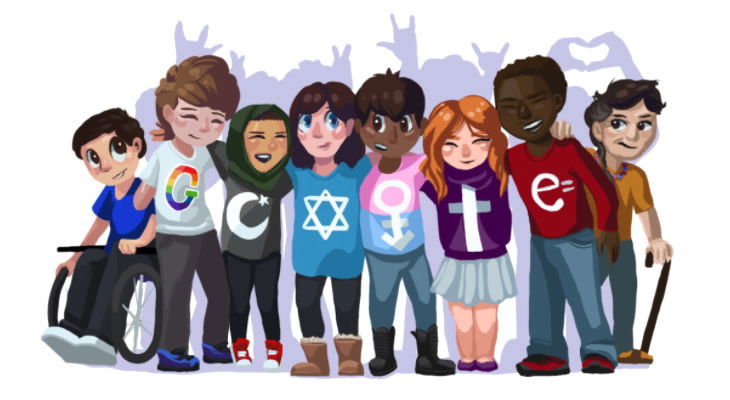 She says, "My future is a world where we can all learn to love each other despite our religion, gender, race, ethnicity, or sexuality. I dream of a future where everyone is safe and accepted wherever they go, whoever they are."
Peace and Love Sound Great
In a time of tension, political divide, terrorism, poverty, war, racism, and sharp divides in thought, the idea of a peaceful, loving world sounds pretty nice. But is Sarah's dream realistic? Sadly, it's not. You see, mankind isn't basically good, as so many people have been taught to believe. The Bible accurately describes our condition (and a quick look at history confirms that the Bible is right!).
The heart is deceitful above all things,
And desperately wicked;
Who can know it? (Jeremiah 17:9)
There is none righteous, no, not one. (Romans 3:10)
For out of the heart proceed evil thoughts, murders, adulteries, fornications, thefts, false witness, blasphemies. (Matthew 15:19)
We aren't basically good—our hearts are sinful to the very core! And we don't simply have sinful tendencies—those without Christ are slaves to sin (Romans 6:20). Man can never bring about a day when everyone will just get along and live in peace, because we can't get rid of our sin nature.
Because of our sin nature, those who disagree with God's Word on issues of sin (such as homosexual behavior, abortion, fornication, and so on) often claim that those who stand with God's Word on morality are hateful! Yet those who make this claim are often themselves hateful toward Christians! Yes, sin is the problem!
The Only Hope for Mankind
The hope for mankind isn't in equality, education, or everyone deciding to love one another despite our differences. Our hope—our only hope—is found in the gospel of Jesus Christ. It's accepting the good news of the gospel that frees us from our slavery to sin and makes us a new creation (2 Corinthians 5:17).
But many people choose to reject this hope and instead place their hope in mankind (which will turn out to be a disappointment). And, sadly, many people hope not only in weeding out sinful attitudes like racism, but in normalizing and celebrating sinful behaviors like homosexual behavior and transgender. But celebrating sin won't lead to peace and happiness—it leads to heartache and brokenness, as disobeying God always does. But the gospel and biblical truth promote true equality (Galatians 3:28) and combat racism (Acts 17:26). And though Christians are called to live peaceably with all men, we can't embrace sinfulness or compromise on truth (Romans 12; John 8:31-32).
We need to be telling others whose hope is in humanity, like Sarah, where they can find true hope—in the finished work of Jesus Christ.
As Christians we hold the most precious gift: true and lasting hope, grounded in the God who has dealt with sin, our biggest problem! We need to be telling others whose hope is in humanity, like Sarah, where they can find true hope—in the finished work of Jesus Christ.
What Do I See for the Future?
So what do I see for the future? Well, it doesn't really matter what I think because the Bible has already told us.
That at the name of Jesus every knee should bow, of those in heaven, and of those on earth, and of those under the earth, and that every tongue should confess that Jesus Christ is Lord, to the glory of God the Father. (Philippians 2:10–11)
Eventually everyone will bow and confess that Jesus is Lord. Those who have been redeemed will do so in worship of their Savior, and those who have rejected Christ will do so under compulsion. Those who are joyfully praising their Savior will be a diverse crowd that no one can number, from "all nations, tribes, peoples, and tongues" (Revelation 7:9) and from every sinful background (1 Corinthians 6:9–11). What a day it will be to gather together with saints from every culture to cry out in thanksgiving and praise, "salvation belongs to our God who sits on the throne, and to the Lamb!" (Revelation 7:10)!
To learn how you can be part of that great crowd, visit our gospel page.
Thanks for stopping by and thanks for praying,
Ken
This item was written with the assistance of AiG's research team.