We are excited about our billboard challenge involving the Creation Museum this summer. We are putting up 50 new spectacular Creation Museum billboards all around the Midwest. If you can capture a picture of all 50, you will be entered in a drawing to win the grand prize! And if you capture a picture of four of them—all with different characters—you can win a free t-shirt!
Each billboard features a character from our latest 2 Buy 2 animated commercial and a number. Take a picture of four of the billboards, each containing a different character, bring the photos to the museum and present them to a Creation Museum staff member, who will get the photos approved and verified by a Billboard Challenge Certification Team member, and you could win a voucher to choose a t-shirt from our Dragon Hall Bookstore while supplies last. View contest details here.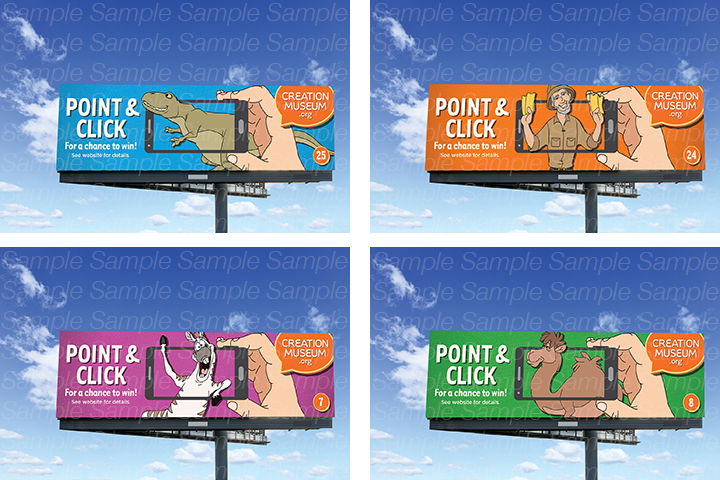 Now, if you can capture a picture of all 50 numbered billboards and get them approved and verified by a member of the Billboard Challenge Certification Team, you will be entered in a drawing to win the grand prize—a lifetime membership to both the upcoming Ark Encounter and the Creation Museum! That's an exciting grand prize valued at $3,000! And anyone in the drawing and not selected for the Grand Prize will receive admission passes to both the Ark Encounter and the Creation Museum for one full year. Read more about these contest details on the Creation Museum website.
Here's a jingle about the billboard challenge from around the office:
Hunt them down while you travel around,
Take a pic but make it quick.
Find all fifty, win something nifty.
When you see 'em, visit the Museum.
We will be posting hints along the way on the Creation Museum Facebook page, so be sure to keep checking it.. Again, be sure to learn more details about the contest here. Please be careful while you watch out for the billboards. We recommend a passenger, rather than the driver, take the picture unless it is safe for you to pull over. And if you can't get to an area, you may know someone who could get that photograph for you! Happy billboard hunting!
Let's Teach Our Kids To Stand on God's Word
It is so important in a day and age when secularists are working hard to capture the hearts and minds of our young people that we equip them to stand solidly on God's Word from the very beginning. Our culture is filled with lies that are constantly being preached to our children. We need to be active in pointing them toward the only truth—God's Word. And we need to teach them how to defend the accuracy of God's Word against the growing misinformation-laden attacks by secularists. There is such a need for apologetics in today's culture!
One way that we can teach apologetics and connect the Bible to real life is by bringing as many young people as possible to the incredible Creation Museum. At this world-class Museum, with its theaters, planetarium, animatronics, and 75,000 square feet of life-size exhibits, people of all ages will see how God's Word connects with history and science. They will learn how to view the world through the lens of God's Word and be challenged concerning the saving gospel message. This connection of God's Word to God's world is what they need to understand how God's Word is relevant to their lives today in the "real world." I encourage you to bring all the young people you know (in fact—bring anyone you know—all ages) to the Creation Museum this year during our 2 Buy 2 campaign—buy two tickets and get two free!
Thanks for stopping by and thanks for praying,
Ken
This item was written with the assistance of AiG's research team.