Buddy Davis has a new song on a top 50 chart! Last year, Buddy had two songs on the Top 50 chart for inspirational country music, which I blogged about here. Now, in addition to being a musician, Buddy is a dinosaur sculptor for the Creation Museum as well as a speaker. He's multitalented!
Well, I want to congratulate Buddy on this remarkable achievement for his song "Jesus Is Alive" getting on the national charts for inspirational country music.
Buddy loves to work with children here at the museum and when speaking on the road. He has a passion for sharing the message of God's Word through music. His original songs are often featured at our conferences and the Creation Museum.
"Jesus Is Alive" is available on his brand new album, Songs of Life, Love, and Faith. You can order this excellent album—available as an audio CD or as a digital download (MP3)—on our web store. When you go to the link, if you scan down the page you will see the song list and then can listen to a sample of each song.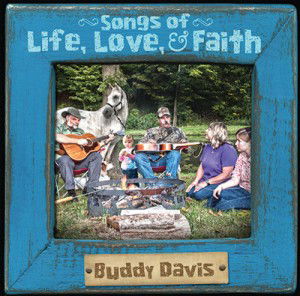 Buddy explains on our website that the CD is a collection of songs that includes many of his life experiences:
I wrote about faith, love, humor, and things that are dear to me. Most of the songs tell a story that I believe the entire family will enjoy. Some songs will touch your heart, and others will bring a smile to your face. Some of the songs take you on an adventure into swamps and caves, with horses and even an old hunting dog. All of the songs are God-honoring, and it is my prayer that you will be encouraged and can relate to many of my stories.
I encourage you to order this inspirational and family friendly album. Your entire family will enjoy it!
Thanks for stopping by and thanks for praying,
Ken