Buddy Davis, one of the Creation Museum's dinosaur sculptors, as well as a speaker and musician, currently has two songs on the Top 50 chart right now! This is great news, and I want to congratulate Buddy on such an achievement.
Now, Buddy often leads children's programs at our conferences and the Creation Museum, writing and playing original songs that the whole family can enjoy and sing along to. He has a passion for teaching the message of God's Word through song. See the Creation Museum website for a schedule of Buddy's concerts.
Buddy has also sculpted dinosaurs for the Creation Museum's Dino Den, a two-story dinosaur exhibit. Recently, the Dino Den was expanded to include Buddy's newest sculpture of a Kentrosaurus.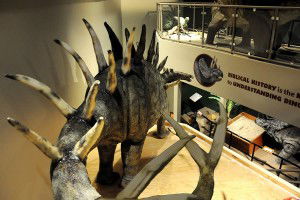 Many of Buddy's songs are based on the talks we give at conferences and at the Creation Museum, as well as on my sayings that are meant to help children easily remember the facts of the biblical creation account. By listening to Buddy's CDs, children can learn the message of Answers in Genesis through song.
One of the songs, "King of Kings," is available on Buddy's album I Am Not Ashamed. You can listen to a sample of "King of Kings" and order the album through our online store.
The other song, "Mammoth Cave," is available on the DVD Extreme Caving, the newest addition to the Buddy Davis' Amazing Adventures series! To listen to a sample clip of "Mammoth Cave" and to preorder Extreme Caving, visit the product page.
Buddy has many other CDs available, one specifically meant for children called Creation Musical Adventures. It's hard to find family entertainment that's firmly rooted in God's Word and exciting for parents and children alike. I urge you to take advantage of these great resources today!
Thanks for stopping by and thanks for praying,
Ken