We certainly can't mention every church group that visits our Creation Museum (there are hundreds each year). But I did want to acknowledge a recent visit by the Mifflinburg Alliance Church from Pennsylvania. It just so happens that the leader of this tour, Glen Bayly, has been a long-time supporter of the AiG ministry. He hosts a weekly radio program called The Lion's Den University Report.
With his unique radio broadcast, Glen travels around the country to interview Christians who are academics in universities. Many of the professors he interviews are evolution-doubters, and some of them will also hold to the basic Creation and global-Flood beliefs of Answers in Genesis.
As he travels to these various campuses, Glen will pass out some of our witnessing booklets. A popular one, authored by one of our adjunct speakers, Dr. Gary Parker, is titled From Evolution to Creation, which is Gary's testimony of rejecting evolution and accepting creation while a professor at a Christian college. Glen also passes out CD samples of his radio program to campus chaplains, faculty, and students.
Here is a photo of Glen inside our Creation Museum, next to one of our dinosaur models: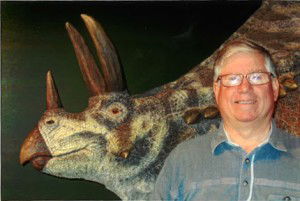 Here is Glen's group, receiving a welcome from Stan, one of our excellent museum staff members—Glen is on the far right: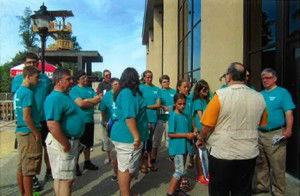 Thanks for stopping by and thanks for praying,
Ken