I often document examples of the rampant compromise taught by many church leaders and academics, which is rife in the church in general. For example, see my blog post from yesterday for an example of shocking compromise in the Christian Reformed denomination that undermines God's Word.
At the same time, it's also important to know that God still has a remnant—a powerful, faithful remnant in this nation. There are many godly families and pastors who stand boldly on the authority of the Word of God. Let me just give you an example of two.
I speak at many AiG conferences held in churches across this nation. Recently we held AiG conferences in Blackshear Place Baptist Church in Flowery Branch, Georgia, and also First Baptist Church of Naples, Florida. The senior pastors of these churches wrote to us after the AiG conferences with these words:
Our recent "Answers in Genesis" conference, led by Ken Ham and his team, was one of the best attended and most enthusiastically received seminars in my 21 years here. First Baptist Church of Naples, Florida will not be the same, with many gaining a new trust in the authority of the Word, a stronger belief in the creativity of our universe, and a fresh passion for the glory of God. The use of multi-media, the speakers' lively sense of humor, and incorporation of up-to-date data allowed Mr. Ham to captivate all ages for an extensive period of time. The resources of Answers in Genesis are practical and very popular with our folks. In Christ – Dr. Hayes Wicker.
Here is another from a church where I first spoke in 1997:
Answers in Genesis continues to be a blessing to Blackshear Place Baptist Church. Our recent Answers in Genesis conference with Ken Ham demonstrated, once again, the hunger people have for biblical truths. We saw thousands gather session after session to hear God's Word taught. The resources they brought continue to be a blessing to our people. We thank the Lord for this vital ministry. – Pastor Jeff Crook, Sr. Pastor, Blackshear Place Baptist Church www.bpbc.com.
Here is a photograph taken of me with the senior pastor of Blackshear Place Baptist Church, Jeff Crook: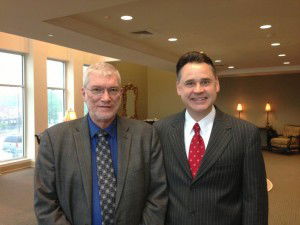 To give you just a little sense of what it's like to be at these conferences, I've included a number of photographs from the AiG conference at Blackshear Place Baptist Church earlier this month. One of the most exciting aspects of these conferences is that we not only reach thousands of adults and young people with the truth of God's Word beginning in Genesis, but also thousands and thousands of children. What a joy it is to see so many young kids walking out with resources in their hands! Over the years, millions of books, DVDs, and other resources have been distributed across this nation—and they are having a great impact on this generation.
Yes, hundreds of thousands of children and teens have been equipped at our student meetings to stand boldly on God's Word without compromise and to proclaim the gospel with authority. That's because they believe the authority from which this message comes—the Word of God.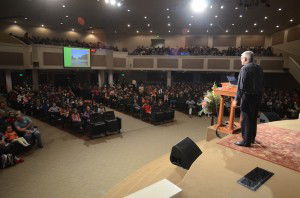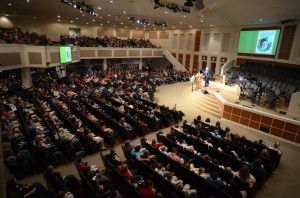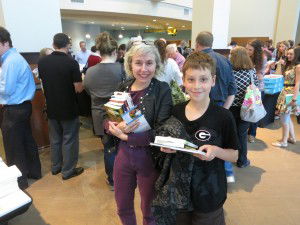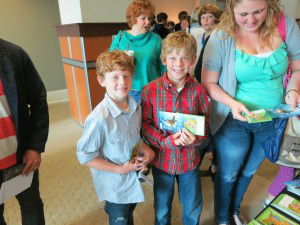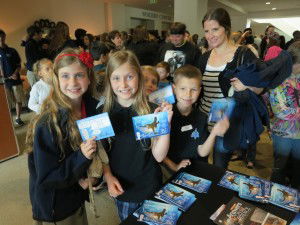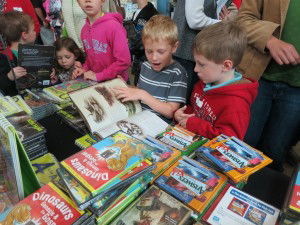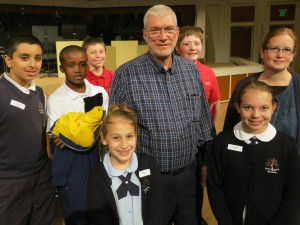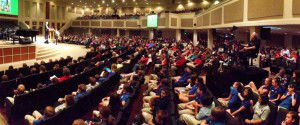 Make sure you and your pastor request an AiG conference for your church—we have a number of dynamic speakers who can equip adults and kids to defend the Christian faith in today's world. To request a faith-building conference, go to the outreach section of our website.
Thanks for stopping by and thanks for praying,
Ken