One of Europe's most active creationists is my good friend Dr. Nagy Iskander. Nagy and his wife Nashua are medical doctors originally from Egypt. They have done so much to help AiG and others proclaim the creation/gospel message in their adopted home of Scotland.
A few centuries ago, most people in Scotland would have called themselves Bible-believing Christians. Today, very few people in this country, which gave us the Presbyterian church, would call themselves Christians anymore. This certainly grieves Dr. Iskander, and he has a passion to proclaim the gospel to Scots. This desire has taken many forms, including enclosing evangelistic CD-ROMs inside secular newspapers. The Glasgow Herald newspaper has distributed his Advent Calendar CD-ROM during the Christmas season—during one Christmas, Nagy distributed 130,000 CDs inside this newspaper!
Nagy and Nashua have a passion to reach young people in Scotland with the gospel. They have formed the JAM (Jesus and Me) Trust, a British charity that is for evangelism purposes. This includes JAM Clubs for local children, which is especially busy during long schools breaks, where children play games and learn Bible lessons. A few years ago, the JAM Trust acquired an empty shop outside Glasgow for a special Christmas exhibition, where the true meaning of Christmas was presented to children, teens, and adults through videos, displays, and activities. The idea was that as people were shopping for Christmas gifts, they would learn about the birth of Jesus and the salvation He offers. Now this shop unit is in use throughout the year, usually on Saturday afternoons. Included in the activities and presentations are teachings from Genesis and throughout the rest of Scripture—with staff there to answer questions.
Recently, a local newspaper in the Glasgow suburb of East Kilbride highlighted a Bible study group that Dr. Iskander (yes, he is a busy man) leads on Thursday evenings called the Bible Discovery Group. A portion of the article is below, with a photo. It just so happened that my brother Steve of AiG-USA was visiting Dr. Iskander the day this photo was taken, and you can see him in the top row, second from the left. In front of him and just to Steve's left (in the gray suit and tie) is the chairman of the board of AiG-UK, Pastor Ian McNaughton.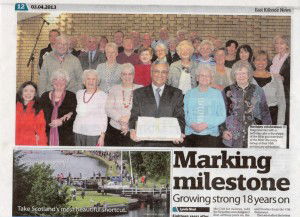 Steve is heading up our international outreaches (plus our U.S. conferences) and their expansion. He was also in Thailand recently, looking for venues for a 2014 apologetics conference in that beautiful country. Steve briefed me on Thursday about the many outreaches (including a growing translations ministry) that are planned around the world over the next two years—it's exciting. Here is the special website we have for AiG's international programs.
Find out more about the Iskanders and their many outreaches at this link.
Thanks for stopping by and thanks for praying,
Ken