Here is the tribute that AiG CCO Mark Looy read out for me on Saturday at the memorial service for creationist pioneer Dr. Duane Gish. The celebration of his life was held at Shadow Mountain Community Church, El Cajon, California, April 6, 2013. Dr. Gish passed away at age 92 last month.
I wanted to have Mark Looy let you know how much I appreciated a man that many of us called, affectionately, "Creation's Bulldog." * That's because of Dr. Gish's vigorous defense of the Genesis account of creation. I'm speaking in Washington DC this weekend, and I am so sorry,  Lolly and family, that I could not be with you to celebrate the life of a dear friend and colleague.

In the 1970s while living in Australia, I got hold of Duane's great book, Evolution: The Fossils Say "No".  I also remember the joy of seeing the first major creationist children's book on dinosaurs, Dr. Gish's Dinosaurs: Those Terrible Lizards. The creationist group I helped found imported his two books, and thousands of copies were distributed throughout my homeland. Soon, Dr. Gish came to visit Australia to speak for our ministry.

When our family moved to the USA in 1987 and I worked with Dr. Gish and Dr. Henry Morris at ICR, Dr. Gish became something of an American grandfather to our children. Over time, Dr. Gish and the late Dr. Morris became heroes of the Christian faith to me.

What a special time it was for me to re-connect with Dr. Gish last June. He kept telling me how thrilled he was with the Creation Museum and what a blessing it was for him to have visited —and he was so encouraged to see that so many others were carrying on the worldwide creation ministry that he and Dr. Morris were so integral in starting.

It is the end of an era. Two great men of God have now moved on to their eternal homes. It's our task to build on their tremendous legacy.

Dr. Gish knew why there was disease, suffering, and death in the world. He knew the answer was in the book of Genesis—we all live in a cursed, fallen world, as Genesis 3 teaches us. But God, through His Son, Jesus Christ, provided us the solution as Christ conquered death.

Many of our staff members can attest to the impact that Dr. Gish's ministry had on them. Here is Mark with his recollections of a man whom God used to change Mark's life in a very profound way . . .
For those in attendance, Mark then summarized what he
wrote for our website last month
about Dr. Gish and the impact he had on so many lives, including Mark's.
Here are some photos taken during his memorial service, including one of Dr. Gish in his Army days in the 1940s. He was set to be a part of the invasion of Japan in 1945 when an atomic bomb was dropped on Hiroshima, but the invasion was put off. The war ended soon after.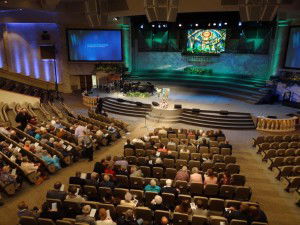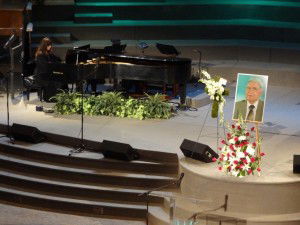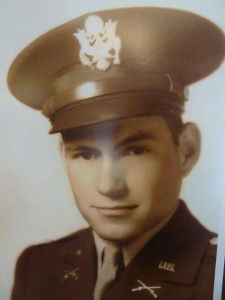 Thanks for stopping by and thanks for praying,
Ken
*Mark went "off script" at this point and added that many staff called Dr. Gish the "Creationist Energizer Bunny" for his untiring efforts in traveling the world to share the truths of Genesis, even into his 80s.