If you live in Southern California, I hope you'll be able to drive and attend Saturday's memorial service of a great Christian apologist and one of my heroes of the faith, Dr. Duane Gish. He was a brilliant scientist, debater, and writer—and just a wonderful human being with a passion for God's Word. If you haven't yet, I encourage you to read my tribute to Dr. Gish.
The details of Dr. Gish's memorial service are as follows:
10 AM, Saturday, April 6 Shadow Mountain Community Church 2100 Greenfield Drive, El Cajon, CA 92019 (That's about 20 minutes east of San Diego—one mile south of I-8 at the Greenfield exit.)
Our website has another tribute, which includes more information on Dr. Gish's impressive background—he was known worldwide as creation's foremost debater. Please read this moving tribute from AiG CCO Mark Looy. Mark will attend the service and speak briefly about his dear friend, Dr. Gish, and how God used Dr. Gish in his life. (I will be speaking in Washington DC that day and sadly can't attend.)
If you attend the service, I also encourage you to visit the well-done creationist museum in nearby Santee. The Creation and Earth History Museum is free. Find out more and get directions at creationsd.org. Here is a photo of Dr. Gish and me as we chatted last year. I will miss this man greatly.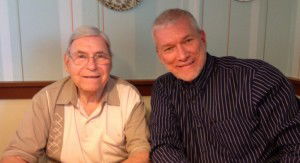 Thanks for stopping by, and thanks for praying—including for Duane's wife Lolly, their four children, and several grandchildren.
Ken