Assuredly, I say to you, whoever does not receive the kingdom of God as a little child will by no means enter it. (Mark 10:15)
Oh, that all of today's Christian academics and Christian leaders would have the attitude of a child in regard to the infallible God's Word and trusting in it. And today I want to tell you about a 10-year-old who has a unique way of spreading the truth of God's Word.
But first, I wanted to let you know that later this week I will publish a blog post on a Christian academic (Dr. Deborah Haarsma) of Calvin College and who now heads up the compromising BioLogos pro-evolution organization. After becoming president of BioLogos, Haarsma wrote the introductory article to a series of articles that will be discussing the meaning of Adam and Eve for the Think Christian website! When you read her article you will realize she trusts fallible humans' interpretation of the past concerning origins and allows for God's Word to then be reinterpreted. Once you begin debating over a literal Adam and Eve and a literal Fall—then true Christianity is gone.
Scripture tells us that "knowledge puffs up" (1 Corinthians 8:1). Certainly I see so much pride in academia today, including in Christian circles. This academic pride causes many to become so puffed up with all their supposed knowledge (and concerning origins it is not true knowledge but an interpretation of the evidence by fallible humans) that they make themselves the authority instead of God's Word. Oh, that Christian academics like Deborah Haarsma would get back to the child-like faith that we all need to have.
But—let's talk about the good news! Praise the Lord for the faith of a 10-year-old who is using his love of building with LEGO toys to honor God. On his website he states the following:
Welcome to Building Legos with Christ. This site is designed for kids that enjoy building creations that honor God. However, if you are a big kid you are still welcome to enjoy my site. I will be sharing my latest Lego creations and hope you will enjoy them and feel inspired to build your own creations. Enjoy and give God the glory!
I loved the Noah's Ark he built. Here is what he said:
Noah's Ark LEGO Creation

Over the past couple of weeks we have been studying Noah's Ark in our Answers for Kids Bible Study. I love my new Bible Study! If you have not checked out Answers in Genesis you should definitely check out their site. I had the chance to listen to Ken Hamm speak at church and it was great.

During my studies, I have learned that Noah's Ark was not as it is pictured in many children's Bible stories. It was more like a tank. Not a boat with animals hanging out of the top. I also learned that God sent the animals to Noah. Noah did not have to chose them or try to get them onto the ark. Did you know that God sent seven of each clean animal onto the ark? Did you know that God sent the rainbow as a promise that he would never again flood the earth? If you would like to read about Noah's Ark you can find it in the Bible in Genesis 6.

I hope you enjoy my Noah's Ark Lego Creation. Check out Answers in Genesis. You will be amazed at what knowledge you find there. They also have a Creation Museum in Kentucky. I'd love to visit it some day.

Have a blessed day!
I love that Answers in Genesis has been used to help this young man to have the correct understanding of Noah's Ark—not the usual terrible "bathtub arks" that I see in a lot of Christian literature. Click here to see his item about Noah's Ark and pictures of the LEGO Ark he built.
You can also go to the home page of his website at this link.
Our kids loved LEGO bricks, and our grandkids will also be using LEGO bricks! What a blessing to now have a website by a 10-year-old boy who is using LEGO bricks to honor God! I have met many kids across America who have been using AiG resources to learn the truth about God's Word as this young man has! How we praise the Lord for that.
When you see all the depressing things happening in this culture, it is so refreshing to go to a website like this (even as a big kid) and read about the faith of this child as he, even at 10 years old, is using his talents to spread God's Word.
Oh—and just for interest for this young man—I bought some LEGO bricks for myself when I was in Australia recently (big kids like them too!)—see the photo: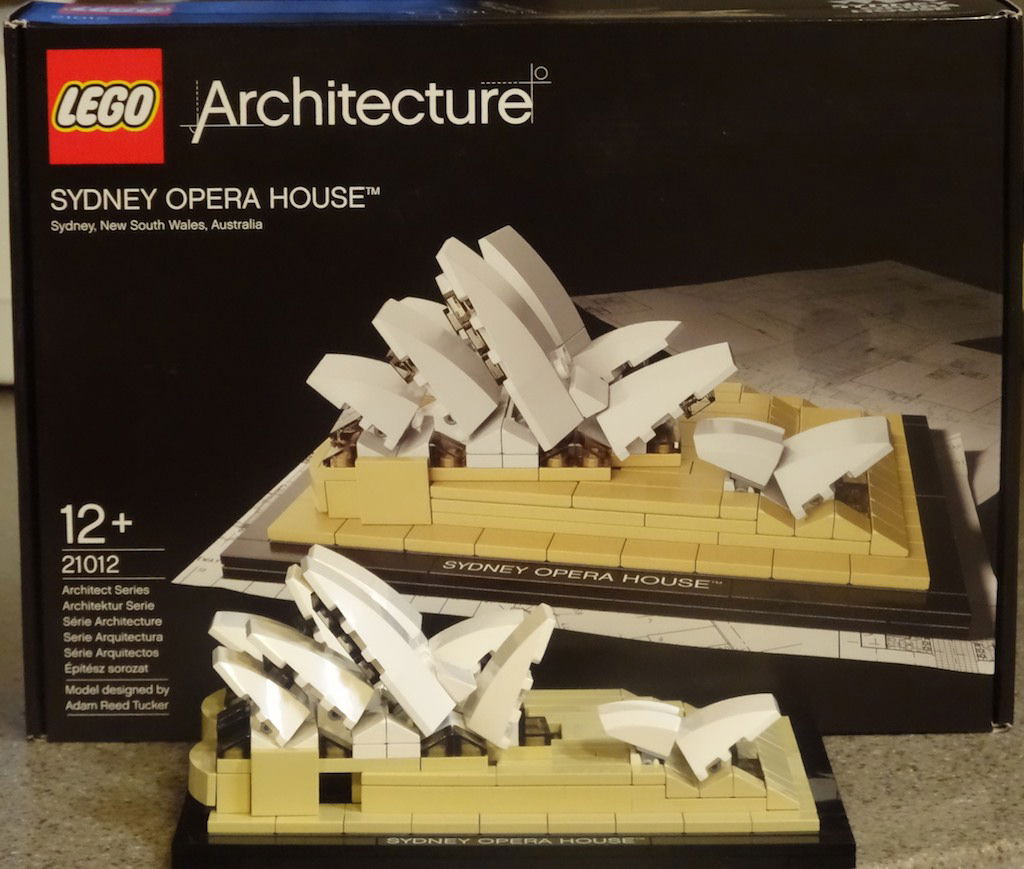 Sadly, though, the famed Sydney Opera House is rarely used to honor God, but it is a reminder to me of how much my home country needs to hear the truth of God's Word.
We all need to be reminded to do our best to raise up godly generations who know what they believe and know why they believe what they do—so that will be equipped to stand boldly on the authority of God's Word as this young man is.
Put on the whole armor of God, that you may be able to stand against the wiles of the devil. For we do not wrestle against flesh and blood, but against principalities, against powers, against the rulers of the darkness of this age, against spiritual hosts of wickedness in the heavenly places.Therefore take up the whole armor of God, that you may be able to withstand in the evil day, and having done all, to stand.

Stand therefore, having girded your waist with truth, having put on the breastplate of righteousness, and having shod your feet with the preparation of the gospel of peace; above all, taking the shield of faith with which you will be able to quench all the fiery darts of the wicked one. And take the helmet of salvation, and the sword of the Spirit, which is the word of God. (Ephesians 6:11–17)
Thanks for stopping by and thanks for praying,
Ken