Many types of visitors come to the Creation Museum. Some we really can't tell you about because, sadly, in this increasingly secularized culture, secularists would cause problems for them if they found out the visitors' identities.
Recently, a number of young people (who are considered "troubled" children with great needs) were able to come to the Creation Museum. One of the teachers who brought them sent us this letter from one of the students after their visit: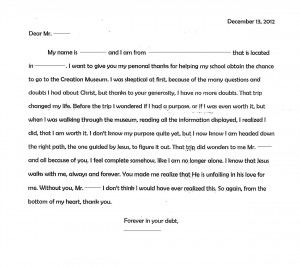 All I can say is praise the Lord! And I wanted our supporters to know that there are many other young people like this who have been influenced greatly by the Lord using the Creation Museum.
It's sad that so many young people (like those in our public schools) will go in busloads to secular natural history museums that present evolution as fact and basically indoctrinate people in atheism—but most of these young people are not allowed to come to the Creation Museum or the ACLU will sue the public schools involved.
But despite all this, God works in wonderful ways to enable such people—as the young person who wrote this letter—to be able to come and be blessed.
Thanks for stopping by and thanks for praying,
Ken