Secularists openly and frequently mock the Creation Museum. With name calling and all sorts of false accusations, they attempt  (futilely) to discredit this high-quality professional facility.  Many secularists label it a "pseudo" museum compared to the supposed real museums like the Smithsonian facilities in Washington, DC (that teach evolution and millions of years as fact, like its National Museum of Natural History).
Well, here is something ironic!  The Smithsonian (unknowingly, I'm sure) has used a photograph of one of the dinosaurs inside our Creation Museum on a major promotional brochure for its popular IMAX shows: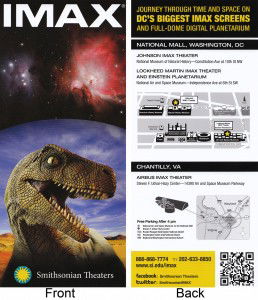 That phenomenally sculpted dinosaur was designed and built at the Creation Museum by AiG sculptors/designers. We can understand why the Smithsonian (or its ad agency) chose this photo of the dinosaur—the dinosaur is so well done.
I'm sure the Smithsonian will be horrified when they find out where this photo was taken. (We just alerted officials there about its copyright violation.)  Now, AiG/Creation Museum does own the copyright on this dinosaur of ours, and the Smithsonian or its ad agency obtained it from a commercial site that is not licensed to sell this photo.  Now, we would be happy to give permission to the Smithsonian to use this photo if they request it, but I'm sure once the word is out that this photo is of a dinosaur at the Creation Museum—well, I wonder what they will do?  After all, we are accused by the secularists of not doing real science—yet the Smithsonian chose one of our dinosaurs (albeit unwittingly) to feature on a major promotional piece.  Now, we are prepared to offer the Smithsonian a license for free, though it would require our copyright notice near the dinosaurs. Regardless, we are not asking the Smithsonian to throw out all their brochures with our dinosaur on them.
So how did we find out about this?  Well, an eight-year-old girl recognized the dinosaur in the photo and told us!
AiG staff member Dan Lietha and his family were in Washington, DC, a few days ago to help man the booth at the NEA where we assisted in handing out free resources to hundreds of educators at this, the world's largest educators' conference.  Dan sent me this report:
The hotel we were staying at had a display rack of cards and flyers advertising local attractions for tourists. As my 8-year-old daughter, Hannah, and I looked through the cards, my daughter pointed to one and says, "that's the dinosaur at the Creation Museum." As soon as I saw it, I recognized the dinosaur as well. Of course the Creation Museum isn't a local attraction in Washington, DC. This bit of advertising was actually for the IMAX Smithsonian Theaters! The Smithsonian was using a Creation Museum dinosaur for their advertising purposes!
Here is Hannah showing the promotional brochure: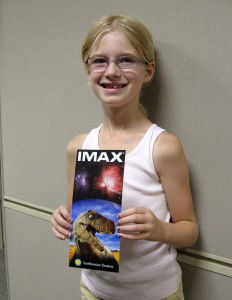 Dan continued:
When we arrived home in Kentucky a couple days later, I did a search to see if I could find how the photo of this dinosaur sculpture, which is unique to the

Creation

Museum, ended up on advertising for the Smithsonian. Google has a feature that will search for images using images and not words. Take an image you wish to search for and drag and drop it into a search window. I did this with the dinosaur image from the ad card, and I found a few exact copies of this dinosaur photo. The source for this particular photo appears to be from a stock photo website … .

[This website] describes its royalty-free stock photo service this way: "Over 2.6 million royalty-free photos and illustrations to choose from, and a variety of plans to suit every project and budget."

The graphic artist that produced the ad card could be either a Smithsonian staff member or a freelance artist. Whatever the case may be, they apparently did a search for "dinosaur" on the [stock photo] site. The exact photo image of the Creation Museum dino used on the ad card is the first dinosaur image that is displayed out of 1,161 possible results for this search on their site.
To obtain the photo from the [stock photos] site, you can either pay a one-time fee and buy image packs that start at one image and go up to fifty images. A single image costs $7.99 for print use. Or the artist can have a subscription to the site. If they use a lot of photos, this is very likely because this route saves lots of money.
I searched around on the web for info on submitting photos to stock photo sites and found this instruction to photographers about copyrighted items in photos they submit (keep in mind this is not from [the stock photos website], but it is a rule of thumb for these photo sites in general):
"Remove all copyrighted material from your photos prior submission to any Royalty Free stock agency. Logos, trademarks, license plates, copyrighted designs, drawings or photos if not yours or if you don't own rights to them, and so on."
[The stock photos website] must have let this dinosaur image pass through its screening process to allow it to be offered on their site.
Considering that this photo is of a dinosaur from the Creation Museum, It's interesting that the keywords listed with this photo to help you find it in a search includes: "Jurassic."
I would doubt that the Smithsonian even knows that the dino has ANY connection to the Creation Museum. Obviously, the photographer took the photo at the Creation Museum. She submitted the photo to [stock photo website]. It was accepted and made available to anybody that wants to use it. A graphic artist doing a job for the Smithsonian most likely found and purchased the dino photo from [stock photo website] for use in the Smithsonian advertising card.
There's no doubt the
Creation
Museum's sculptors/designers do great work and at a highly professional and scientific level! And people are noticing.
Thanks for stopping by and thanks for praying,
Ken