It seems like I'm traveling more than ever in 35 years of speaking ministry. The opportunities to present the important creation/gospel message are increasing. A part of that rise is due to the popularity of our Creation Museum, which draws about 300,000 people a year—many museum visitors eventually inquire about having an AiG speaker in their area.
There are two major conferences to bring to your attention on today's blog post.
Missouri
Our national family conference is coming to family-friendly Branson, Missouri, quite soon—July 16–20. Now, don't worry about not having registered for this exciting conference—with a great line-up of speakers, like Dr. Voddie Baucham and several AiG staff. Just sign up at the door at the beautiful Tri-Lakes conference facility. Simple. Also, to find lodging in the area and to see what family attractions can be found in Branson, go to
http://www.answersingenesis.org/outreach/proclaiming-the-faith/
. I hope to see you there starting Monday, July 16.
South Carolina
Second, I will be speaking at the "Truth for a New Generation" conference in two months in Spartanburg, South Carolina. Although some of the speakers do not agree with our straightforward view of Genesis as literal history, I welcome the opportunity to have our message be heard September 28–29 (I speak on Saturday). Dr. Terry Mortenson of our staff will also be there, and he'll be doing a break-out session. If you have never heard Dr. Mortenson speak (who right now is leading a raft trip through the Grand Canyon with 20 Christian leaders on board for several days), then here is your opportunity.
I do praise the Lord for the open doors to be invited to such conferences.
See the ad below, which appeared in World magazine, and then go to the following website for the full conference schedule: http://truthforanewgeneration.com/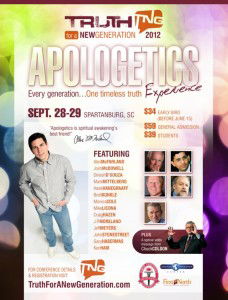 Thanks for stopping by and thanks for praying,
Ken